3 times 'Bates Motel' season 5, episode 1 referenced Alfred Hitchcock's 'Psycho'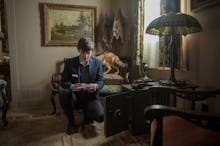 Bates Motel returned to A&E Monday night for its fifth and final season. Although set in the modern day, the drama is a prequel to Alfred Hitchcock's 1960 thriller Psycho — and episode one had a couple big references to the classic film.
[Editor's note: This story contains spoilers from Bates Motel season five, episode one.]
Norma at the window
Yes, Norma is dead — but that doesn't mean she's gone from the show. Norman is now having blackouts and hallucinating his mother. She peers out the second floor window when Madeleine Loomis, the owner of the local hardware store, stops by to see Norman at the motel. Hitchcock's Psycho featured a similar scene, with the private investigator spotting Norma's silhouette in the window.
The peep hole
After "David Davidson" tries to book the motel room for a few hours, Norman gives him the key to room number one. Suspicious of the man, Norman removes a painting in his office to look through a peep hole into the hotel room. He creepily watches Davidson and his girlfriend have sex.
The scene was similar to the shot of Norman watching Marion Crane undress in Psycho.
Loomis and the hardware store
Norman visits the local hardware store in episode one to get some paint swatches for the motel. It's there that he meets store owner Madeleine Loomis. Madeleine is not a character from the movie, but Psycho fans may recognize her last name. Sam Loomis was the hardware store owner who dated Marion Crane. 
Madeleine is married and did mention that her husband isn't all that interested in the hardware store. Viewers actually catch a quick look a him in the season five premiere: He's the hotel guest that checked into the motel under the fake name of David Davidson. 
Bates Motel airs on Mondays at 10 p.m. Eastern on A&E.
Mic has ongoing coverage of Bates Motel. Please follow our main Bates Motel hub here.