Lindsay Lohan says she was "racially profiled" while wearing a headscarf at an airport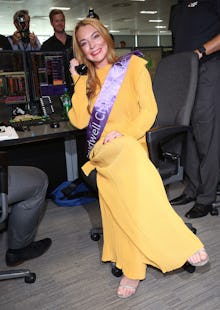 Former teen starlet and current accent-haver Lindsay Lohan says she was recently "racially profiled" at London's Heathrow Airport, where she was reportedly stopped and asked to remove a headscarf she was wearing, according to the Associated Press. 
During a Good Morning Britain appearance on Tuesday, Lohan, 30, told hosts Piers Morgan and Susanna Reid about the experience, saying, "When I was flying to New York recently I was wearing a headscarf and I got stopped at the airport and was racially profiled for the first time in my life." She then said the agent "opened my passport and saw Lindsay Lohan and started apologizing but said, 'Take off your headscarf,'" Us Weekly reported.
It seems likely that when she said she was "racially profiled," Lohan, who is white, meant to imply that she felt targeted because of her headscarf — not her race. She went on to tell the crowd at Good Morning Britain that the experience "scared" and "intimidated" her, and made her wonder, "How would another woman who doesn't feel comfortable taking off her headscarf feel?"
Fair point, LiLo. Discrimination at airports is all too real, with stories abounding of hijab-wearing women being pulled aside for extra security checks. In 2009, one Iraqi-born U.S. citizen was awarded a $240,000 settlement from JetBlue after airline employees forced him to remove a T-shirt with Arabic writing and put on one that said "I love N.Y."
In fact, incidents of discrimination in airports are so common that the phrase "flying while Muslim" was coined to describe the difficulties faced by Muslim travelers. Being a celebrity is no protection against discrimination: In 2016, actor and model Waris Ahluwalia, who is Sikh, not Muslim, said he was not allowed to board a flight in Mexico after refusing to remove his turban. 
Lohan, who has been spotted carrying a Quran, according to the Associated Press, told Good Morning Britain that she wore a headscarf on a recent trip to Turkey as a sign of "personal respect." 
While Lohan has suggested she hasn't converted to Islam, according to Us Weekly, she said, "I think that me studying the Quran is something I found solace in. You can't just convert to a religion overnight. I just study it, nothing is confirmed yet."