When will Rihanna be on 'Bates Motel'? Everything we know about her character.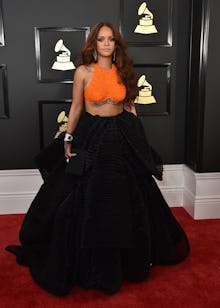 So you heard that Rihanna will appear on Bates Motel. Now you're wondering when. After all, the fifth and final season premiered on Monday and there's no sign of Rihanna yet. Actually, that's not quite true. Though we don't see Rihanna in episode one, we know she was the woman that "David Davidson," aka Sam Loomis, was with at the motel. 
In the sneak peek video for the rest of the season, Marion Crane shows up at the motel and states that she had been there with her boyfriend before. 
To figure out Rihanna's first appearance as Marion Crane, all we have to do is head over to IMDb. The movie database tips us off to Rihanna's appearances in episode five and episode six.
How did Rihanna join the Bates Motel cast?
Rihanna was cast in Bates Motel not only because she's a superstar but a superfan. According to Women's Wear Daily, the show producers reached out to her after her shoutout to Bates Motel in Vanity Fair. They weren't expecting her to say yes to a role, but she did. And that's how RiRi became Marion Crane. 
RiRi on set
Star Nestor Carbonell, who directed Rihanna in episode five of season five, told WWD that the team was pressed for time on production with the singer. Even with the time crunch, RiRi delivered her expected star power. 
"She was a big presence this season," Carbonell said to WWD. "You could tell she was a fan of the show because she walked on set and she initially looked at us and smiled and called us by our character names."
He added that Rihanna did an excellent job of integrating herself into the world of the story.
"She was really invested in the show and in trying to come in seamlessly, which is a tricky thing to do for any actor on a show that's been going for four years," Carbonell said. "But she very much wanted to feel that she was just another character on a show and not pulling eyeballs away from the story in any particular way."
Her character
If you're a Psycho fan, you know that Marion is the name of Janet Leigh's character in the film. Based on that alone, it's unsurprising that Rihanna's cameo gets, to borrow USA Today's word, "steamy." We also suspect that just as in the Hitchcock original, things won't end well for Marion. Here's a reminder:
Mic has ongoing coverage of Bates Motel. Please follow our main Bates Motel hub here.