Hillary Clinton chides Trump for silence over Jewish community centers, anti-Semitism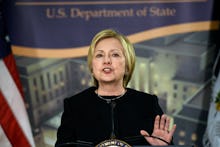 Hillary Clinton called out former rival Donald Trump on Twitter early Tuesday, chiding the president for his silence on a wave of bomb threats against Jewish community centers and other forms of anti-Semitism.
"JCC threats, cemetery desecration & online attacks are so troubling & they need to be stopped. Everyone must speak out, starting w/ @POTUS," the 2016 Democratic nominee for the White House said.
Hours later, Trump told reporters accompanying him on a visit to the National Museum of African American History that "anti-Semitism is horrible and it's going to stop."
The president also said he planned to visit the United States Holocaust Memorial Museum "very soon," calling it "very important" to him:
Clinton's tweet came a day after her daughter, Chelsea, tweeted about the weekend desecration of a Jewish cemetery in St. Louis. 
"<2 months into 2017: JCC bomb threats, synagogue defamed, subway swastikas, Jewish cemetery desecrated. NOW will Trump condemn anti-Semitism?" the former first daughter tweeted.
Trump's daughter, Ivanka, a convert to Judaism, had also called Monday for the country to "protect our houses of worship & religious centers" after what the JCC Association of North America called the eleventh bomb threat against Jewish centers since the start of 2017. 
She did so without mentioning her father, who has defended himself against questions about a rise in anti-Jewish sentiment and violence since he began stumping for president, and since his appointment of former Breitbart boss Steve Bannon, who's been accused of fomenting anger against Jews.
Trump shushed an Orthodox Jewish reporter who asked about "an uptick in anti-Semitism and how the government is planning to take care of it" during a stunning solo news conference last Thursday. The reporter, Jake Turx of Ami Magazine, began his question by emphasizing he was not accusing Trump of being an anti-Semite:
The president, after bragging about his Electoral College victory over Clinton, called the question "unfair," insisting: "No. 1, I am the least anti-Semitic person that you've ever seen in your entire life. No. 2, racism. The least racist person. In fact, we did very well relative to other people running as a Republican."
Trump continued, "As far as people, Jewish people: So many friends, a daughter who happens to be here right now, a son-in-law and three beautiful grandchildren," referring to son-in-law Jared Kushner, an Orthodox Jew and top White House adviser, daughter Ivanka and their kids.