'Kingdom Hearts 3' Release Date: Sora's transforming keyblade revealed in new screenshot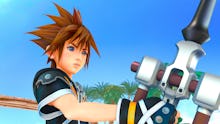 The release date for Kingdom Hearts 3 is probably a long way off, but Square Enix is determined to keep fans drip-fed with screenshots to remind them it is indeed a real thing that's actually coming out — and not, in fact, some kind of decade-long collective hallucination.
As such, Square Enix just released a gorgeous screenshot for Kingdom Hearts 3 that showcases a new feature of Sora's keyblade: the ability to morph into different types of objects.
Kingdom Hearts 3 release date: Sora's keyblade can turn into a shield
The screenshot, unveiled at the Monaco Anime Game International Conferences 2017, shows Sora transforming his keyblade into a shield in a battle with a new type of Heartless. The battle is set in Thebes — a setting from the Disney movie Hercules — according to Gematsu.
"The keyblade turns into a lot of things," game director Tetsuya Nomura said. "Here it is a shield, but it can also be transformed into a chariot. This is called power form." 
Here's a more zoomed-in image of that keyblade, for those of you who want a better look.
Kingdom Hearts 3 release date
So, when can you get your eager little hands on Kingdom Hearts 3? Sorry, folks. Square Enix is remaining tight-lipped about exactly when it will be available, likely because the company itself isn't even sure yet. Once more information becomes available, we'll let you know.
More gaming news and updates
For more gaming news, check out the latest from Mic. Here's a collection of cute Overwatch-inspired Valentine's Day cards, 15 photos that compare the Nintendo Switch to the Wii U and other gadgets, a beginner's guide to For Honor and a deep dive into the new trend of Nazi-punching video games.