'Bates Motel' season 5 spoilers: What will happen in episode 2?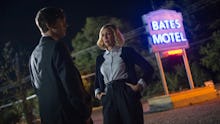 Bates Motel kicked off its fifth and final season on Monday and fans got a look at the beginning of Norman's transformation into Norma. Things will continue to unravel for the White Pine Bay motel manager when episode two, "The Convergence of the Twain," airs on Monday, Feb. 27.
According to Spoiler TV, Norman goes on a date, and thanks to Norma it doesn't go exactly as planned. It's assumed that his date is with local hardware store owner Madeleine Loomis, who looks strikingly similar to Norma. Madeleine did tell Norman that she's married, but a promo video for the season hints that her relationship with her husband might be on the rocks.
Meanwhile, "Romero's frustrations reach a boiling point in" episode two, according to Spoiler TV. The former White Pine Bay sheriff is still behind bars after getting arrested for perjury last season, and is hell bent on getting revenge on Norman. It was revealed in the final moments of the season five premiere that he hired a hit man to take out Norman, but that plan ultimately failed.
Finally, episode two will see the return of Chick. The synopsis simply teases that Chick will bring Norman a gift. Bates Motel fans will have to wait to find out what he's up to.
Bates Motel airs on Mondays at 10 p.m. Eastern on A&E.
Mic has ongoing coverage of Bates Motel. Please follow our main Bates Motel hub here.