6 Oscar best picture winners to watch on Netflix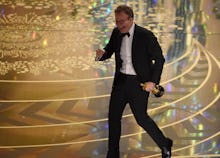 We are officially less than one week away from the 89th Annual Academy Awards. This year, nine films will vie for the greatest prize of them all: best picture. The films up for the top award are: Arrival, Fences, Hacksaw Ridge, Hell or High Water, Hidden Figures, La La Land, Lion, Manchester by the Sea and Moonlight. 
The best way to prepare for Sunday's ceremony is probably to see as many of the above films as you can. If, however, you have already seen them, your next best option may be to cram in as many best picture winners as possible. And obviously, there is a streaming platform with quite a few of them. 
While Netflix's selection of movies never seems to live up to its library of television shows, the streaming giant does have several best picture winners available for subscribers to watch. Here are some to check out before Sunday's awards show. 
Spotlight
Before Sunday's Oscars ceremony, perhaps you should check out last year's winner: Spotlight. The film, which chronicled the Boston Globe's investigation into sexual abuse within the Catholic Church, was nominated for six Academy Awards, winning two: best picture and best original screenplay. 
Spotlight was written and directed by Tom McCarthy, and featured a stellar ensemble cast that included Mark Ruffalo, Michael Keaton and Rachel McAdams. Ruffalo and McAdams were each nominated for their supporting roles in the film. 
No Country for Old Men
Joel and Ethan Coen, perhaps better known as the Coen brothers, are perennial Oscars contenders. In 1997, the pair shared an Academy Award for best original screenplay for Fargo. Over a decade later, the brothers took home three Academy Awards — best picture, best director and best adapted screenplay — for their work on No Country for Old Men. 
In total, No Country for Old Men, which was based off Cormac McCarthy's novel of the same name, was nominated for eight Academy Awards, with Javier Bardem also taking home the gold for his chilling supporting role as Anton Chigurh. 
Shakespeare in Love
Long before Gwyneth Paltrow played Pepper Potts, romantic partner to Iron Man's Tony Stark, she had a role as the (fictional) love interest of someone considerably more famous: William Shakespeare. Shakespeare in Love was nominated for a whopping 13 Academy Awards, winning seven, including best picture, best actress (Gwyneth Paltrow) and best supporting actress (Judi Dench). 
In addition to Paltrow and Dench, Shakespeare in Love included a litany of talented actors, including Academy Award winners Ben Affleck, Geoffrey Rush and Colin Firth. Joseph Fiennes, who recently came under fire for his portrayal of Michael Jackson, played William Shakespeare. 
Braveheart 
At the 68th Academy Awards, Mel Gibson's war epic about the First War of Scottish Independence was nominated for 10 Oscars. Braveheart, which starred and was directed by the controversial filmmaker, ended up winning five Oscars, including two for Gibson: best picture and best director. 
Over two decades later, Mel Gibson has been nominated for his third Academy Award, this time for his directorial work on best picture nominee Hacksaw Ridge. 
Amadeus
The favorite to win best picture at this year's Academy Awards may very well be the musical La La Land. While the best picture winner at the 57th Academy Awards was not a musical per se, it was all about the music; Amadeus is a film that delivers a fictional account of prolific composer Wolfgang Amadeus Mozart's rivalry with Antonio Salieri. 
Amadeus was nominated for 11 Academy Awards, ultimately winning eight, including best picture. Homeland's F. Murray Abraham took home the Oscar for best actor for his portrayal of Salieri. 
Patton
War films seem to be a favorite of the Academy of Motion Picture Arts and Sciences, the voting body at the Oscars. Films that take place during World War II have been frequently recognized, with movies like Saving Private Ryan, Schindler's List, The Imitation Game, Inglourious Basterds and Letters from Iwo Jima being just a few nominated for best picture over the years. Of course, this year, Hacksaw Ridge has been nominated for best picture.
At the 43rd Academy Awards, Patton, an epic World War II film about Gen. George S. Patton, was nominated for 10 Oscars, winning seven, including best picture. The film's Academy Award history may be most famous, though, for actor George C. Scott's refusal to accept his best actor win — becoming the first to do so. 
Mic has ongoing coverage of the Academy Awards. Please follow our main Academy Awards hub here.