NPR tweet calls Thomas Jefferson's rape of slave Sally Hemings a "relationship"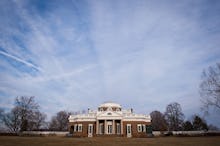 In a tweet shared Monday, NPR referred to Thomas Jefferson's repeated rapes of Sally Hemings — the enslaved black woman who birthed six of the former president's children — as a "relationship."
"Despite nearly 40-yr [sic] relationship with Thomas Jefferson, Sally Hemings wasn't part of Monticello history until the 1990s," the post read.
NPR again shared the story on Tuesday without using the term "relationship," but has not deleted or altered Monday's original tweet.
The word "relationship" — and, more importantly, omission of the word "rape" — suggests a much sunnier and more consensual situation than what actually happened between Hemings and Jefferson. 
Hemings was born into slavery in 1773 and became Jefferson's property in 1774 as part of an inheritance, according to Monticello's website. In 1795, when Hemings was 22, she gave birth to the first of her children with the former president — who was 52 at the time — and delivered five more through 1808, when she was 35 years old.
As a slave, Hemings was chattel. She lived nearly her entire life in forced servitude to her white masters and was considered three-fifths of a human being under U.S. law. It was functionally impossible for her to have a consensual sexual relationship with Jefferson — considering he owned her and had a legal right to beat, mutilate or kill her if she refused.
The "relationship" between Jefferson and Hemings was that between a rapist and rape victim. For unclear reasons, authors, journalists and historians often have trouble making this clear in their work. 
Controversy erupted in 2016 when novelist Stephen O'Connor published the book Thomas Jefferson Dreams of Sally Hemings, which treats Jefferson's rape of Hemings as a love story. The word "rape" doesn't appear once in Monticello's historical synopsis of Hemings' life.
NPR's story similarly declined to mention it. It instead detailed how historians are working to renovate Hemings' living quarters — a restroom at Monticello — to better highlight her role in plantation life. But neither the story nor the tweet suggested that this role consisted largely of being sexually exploited by her white master. 
Ironically, this attempt to illuminate history just obscures the coercive sexual dynamics at play during slavery.