Oklahoma restaurant gets praised for firing employees who participated in Day Without Immigrants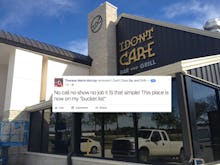 On Thursday, restaurants got a taste of what life would be like without immigrants in the United States. Immigrant workers across many industries participated in a planned protest called Day Without Immigrants, and several restaurants — including Washington, D.C.-area Sweetgreen locations — closed in solidarity and continued to pay protesting employees. 
Other restaurants penalized employees for staying home from work. Bill McNally, the owner of I Don't Care Bar and Grill in Catoosa, Oklahoma, fired 12 employees for protesting, local news outlet KTUL reported. 
In a written statement, McNally said he has "zero tolerance policy for no show/no call incidents and the 12 employees violated that policy."
McNally allegedly fired at least one employee by text message. 
More than 100 workers across the U.S. were fired after they participated in the Day Without Immigrants, Mic previously reported. 
Internet vigilantes moved fast to praise (or drag) the I Don't Care Bar and Grill for its decision to fire workers who protested. Its Yelp page lit up with people discussing the firings. 
Some reviewers doled out five star ratings and applauded the owner's decision. 
Others dragged the restaurant and openly admitted they had never visited the eatery. 
As for the restaurant? It's hiring, according to a Facebook post. 
The Facebook post has over 3,500 comments as of Tuesday morning. Many Facebook users jumped to praise or drag the restaurant for firing protesting employees. 
Restaurants who don't embrace their immigrant workforce might be needing a whole lot more employees in the near future. Roughly 1.4 million restaurant workers are foreign born, including those who are undocumented or not, the New York Times reported. 
In other words, restaurants would be screwed without immigrants. Perhaps I Don't Care should start caring, stat.