Trump's Sweden quote and other presidential missteps from over the weekend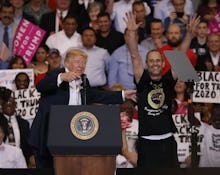 During a campaign rally Saturday in Florida, President Donald Trump made a widely-mocked reference to "what's happening last night in Sweden" — implying that the country had experienced a terrorist attack that, in fact, it did not. 
This being the "alternative facts" presidency, Trump did not back down when confronted with reality. Instead, he tried to turn it around and slam the "FAKE NEWS" media for having the gall to report facts. 
This was just one of the blunders Trump packed into his weekend, the third straight he's spent at his winter White House of Mar-a-Lago, in Florida. Here's what the president was up to while you were at brunch — or one of the many anti-Trump protests that were held over the long Presidents Day weekend. 
Trump attacks press in Florida rally
In addition to adding Sweden to Bowling Green and Atlanta on the list of terrorist attacks made up by the administration, Trump used his rally in Melbourne, Florida, to attack the media before throngs of supporters — using an out-of-context Thomas Jefferson quotation.
In a pretty alarming tirade, Trump said that presidents like Jefferson, Andrew Jackson and Abraham Lincoln fought with the media and that the free press's agenda is not "your" agenda.
"In fact, Thomas Jefferson said, 'Nothing can be believed which is seen in a newspaper,'" Trump said. "'Truth itself,' he said, 'becomes suspicious by being put into that polluted vehicle."
"We will continue to expose them for what they are and, most importantly, we will continue to win, win, win," Trump said, to wild cheers.
Of course, Jefferson also famously celebrated the free press as a necessary part of American democracy.
"The basis of our governments being the opinion of the people, the very first object should be to keep that right," Jefferson wrote. "And were it left to me to decide whether we should have a government without newspapers, or newspapers without a government, I should not hesitate a moment to prefer the latter. But I should mean that every man should receive those papers and be capable of reading them."
Trump's continued attacks on the media drew rebuke Sunday from Fox News anchor Chris Wallace and Republican Sen. John McCain, who told NBC's Chuck Todd that controlling the press "is how dictators get started."
National Security Council staffer fired over criticism
Trump fired a National Security Council staffer who had apparently criticized the administration's Latin American policies and expressed concerns about being shut out of policy discussions about Mexico during a private talk at a Washington, D.C., think tank, according to reports Sunday. 
The dismissing of Western Hemisphere division chief Craig Deare represents the second NSC official to leave the administration in less than a week — the first, national security advisor Michael Flynn, resigned after discussing sanctions with Russian officials and lying about it. 
It also indicates how the Trump administration deals with criticism — and that the elevation of Steve Bannon to the council may indeed have created something of a shadow council. 
Another weekend among the "special people" of Mar-a-Lago
Despite repeatedly criticizing his predecessor Barack Obama for occasionally playing golf while in office, Trump has spent the last three weekends at his winter White House, hitting the links down in Florida. 
The White House has tried to fend off criticism of the president's weekend jaunts to Mar-a-Lago — which cost taxpayers millions of dollars — by arguing that his trips to his exclusive resort make him accessible to "regular Americans."
But "regular" is not the adjective Trump used to describe those super-rich Mar-a-Lago members in audio leaked earlier in the weekend. Speaking Nov. 18, Trump described members of the club as "the special people" and his "real group."
"You are the special people," Trump told the crowd. "You were here before anyone knew it was going to be a success."
"Tomorrow we're here and Sunday we're here," Trump continued. "We're going to be interviewing everybody — Treasury, we're going to be interviewing secretary of state. We have everybody coming in — if you want to come around, it's going to be unbelievable ... so you might want to come along."
Trump continues his misogyny
In a 2002 interview with Howard Stern, Trump implied women are no longer attractive after age 35.
"What is it at 35? It's called check-out time," Trump told Stern.
Well, it's 15 years later, and Trump — who is 70 — once again seemed to make a sexist crack about how women can only be attractive if they are younger than a certain age.
"That plane, as beautiful as it looks, is 30 years old," Trump said, referring to the Air Force One jet behind him. "Can you believe it? What can look so beautiful at 30? An airplane."
Ha ha ha — get it?
Anyway, you knew that the presidency wasn't going to magically cure Trump of his sexism — this is just the latest evidence.