How long is 'Horizon Zero Dawn'? Here's what it takes to beat the PS4 exclusive.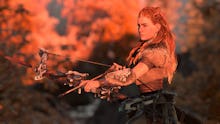 We all figured Horizon Zero Dawn would be a pretty enormous game, but now that the coverage embargo has lifted and critics have weighed in, we know for sure. Between this and The Legend of Zelda: Breath of the Wild, the next few weeks are going to be full of open world antics for players on multiple consoles.
How long to beat Horizon Zero Dawn
The going rate for open world action games these days is somewhere between 20 and 40 hours on an average playthrough — based on our own experience — which includes the main story and at least some side content. It sounds like Horizon fits nicely into that archetype, but with plenty more to keep you coming back after you beat the main story.
Chris Jecks of Twinfinite finished the game in around 30 hours but estimated it could take at least 50 to see and do everything. Giant Bomb's Jeff Gerstmann finished the game in about 30 hours, as well. Patricia Hernandez of Kotaku clocked in at 60 hours with 80% overall completion, meaning she did plenty of side missions and sought out collectibles. Even then, she says there is still a ton left to do.
This is all to say that Horizon is not a short game. If you plan on buying it and hunting robot dinosaurs in the post-post-apocalypse, you should plan on doing it for a good, long while.
More gaming news and updates
For more gaming news, check out the latest from Mic. Here's a collection of cute Overwatch-inspired Valentine's Day cards, 15 photos that compare the Nintendo Switch to the Wii U and other gadgets, a beginner's guide to For Honor and a deep dive into the new trend of Nazi-punching video games.