7 classic books you need to read in 2017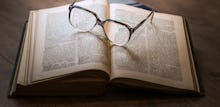 Winter is finally on its way out, and it's time to start thinking about spring vacations — and the books to read while traveling to the nearest body of water that isn't frozen over. 
The phrase "beach read" might evoke images of Harlequin romances or frothy chick-lit paperbacks rather than the Great American Novel, but it's time to rethink what's on your reading list. Some of literature's greatest stories are entertaining and can be read outside of a classroom. 
1984 
Sales of George Orwell's book, published in 1949, have risen dramatically since Donald Trump's election, with the book hitting the top of the Amazon best-seller list and a theater adaptation slated to open on Broadway in June. Clearly the dystopian novel about Big Brother and the Thought Police is resonating strongly with the American public. 
The Hitchhiker's Guide to the Galaxy 
The first book in Douglas Adams' comedy science-fiction series follows Arthur Dent, the last surviving man on Earth after the planet is demolished, to make a hyperspace bypass. He embarks on a series of adventures and misadventures with a crew of hilarious sidekicks, including the depressed robot Marvin the Paranoid Android. 
The Adventures of Huckleberry Finn 
Mark Twain's story of the adventurous orphan first published in 1884 offers a scathing satire on societal standards, especially racism. The book has long been the subject of discussion and debate about the language and racial slurs that fill the pages as it narrates the story of Huck and his friend Jim, a runaway slave, who travel down the Mississippi River on a raft. 
The Prime of Miss Jean Brodie 
The 1961 story of "The Teacher Who Changed My Life" may seem tired to some, but Miss Jean Brodie, an educator who declares herself to be "in her prime," definitely changes the lives of a few of her students — although not in the ways one might expect. The "Brodie set" receive a real-life education about love, sex and politics. 
The House of Mirth 
Few books expose the hypocrisy and social pressures that women had to endure throughout history more movingly than Edith Wharton's 1905 story of Lily Bart. Lily is a well-born but poor woman who struggles to move up New York's social ladder, racing against time as she approaches the apparently unmarriageable age of 30. Her heartbreakingly tragic conclusion causes this book to be a guaranteed tear-jerker. 
Tess of the D'Urbervilles 
Thomas Hardy's 1891 novel was censored and scandalous when it was first published, due in part to its sexual content. The story of a young woman whose life is shaped by how men treat her, Tess includes addresses rape, religion and the danger of keeping secrets because of societal shame. 
Little Women 
For those in the mood for something a bit lighter, Louisa May Alcott's story of four sisters growing up during the Civil War is a heartwarming story of family and friendship with a powerful thread of feminism and emphasis on independence published in 1868.
Mic has ongoing books coverage. Please visit our main books hub.