Group of investors warn Texas against implementation of "bathroom bill"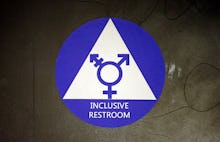 As it did in North Carolina, a transphobic bathroom bill could mean a substantial financial hit for Texas. 
According to Reuters, a group of investors valued at $11 trillion has warned the Lone Star State not to move forward with Senate Bill 6, the "Texas Privacy Act," which would require people to use the bathroom that corresponds with the gender listed on their birth certificates. Inspired by North Carolina's controversial bathroom bill, HB 2, Texas' measure allegedly protects people's privacy — unless they're transgender. In that case, using the restroom would become an uncomfortable and emotionally taxing event. 
The investors' group — which was led by New York City Comptroller Scott M. Stringer and Trillium Asset Management, and included BlackRock, Alliance Bernstein, T. Rowe Price and State Street Global Advisors — sent a letter to Texas Gov. Greg Abbott and Lt. Gov. Dan Patrick advising against the bill's adoption.
"As professional investors, we know that discrimination is simply bad for business," Matthew Patsky, CEO of Trillium, said in a teleconference Tuesday, according to Reuters.
The investment group did not say what it would do if Texas moved forward with the legislation, but financial implications seem guaranteed. 
NBA Commissioner Adam Silver said Sunday that he would be keeping an eye on the bill's status while considering locations for the NBA All-Star game: The 2017 event was moved from Charlotte, North Carolina, to New Orleans over HB 2. On Friday, the NFL warned Texas that enacting the "Privacy Act" could mean forfeiting the chance to host a Super Bowl in the future. 
According to Politifact, North Carolina lost thousands of jobs because of its bathroom bill. Moving the All Star game meant a loss of $100 million, with other sports-related hits totaling losses of nearly $50 million. 
From its inception, the Texas bill was projected to potentially cost the state between $964 million and $8.5 billion. As the state legislature geared up for a new session in early January, Patrick didn't seem too troubled about financial repercussions, emphasizing that the guarantee of "privacy and safety" was of chief importance. 
It's an interesting approach, considering that more Republican lawmakers than transgender people have been arrested for sexual misconduct in public restrooms.
Feb. 21, 2017, 7:01 p.m.: This article has been updated.