MLB player Dexter Fowler faces outrage after saying his Iranian wife has been hurt by Muslim ban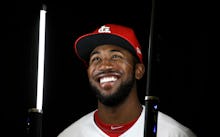 St. Louis Cardinals outfielder Dexter Fowler, a star player during the Chicago Cubs World Series-winning season last year, is standing by his recent comments calling President Donald Trump's Muslim ban "unfortunate," despite vicious — and sometimes racist — online backlash. 
Fowler, whose wife was born in Iran, told ESPN that his sister-in-law had recently delayed returning from a business trip to Qatar for fear of being detained, and that his family has put off taking Fowler's young daughter to visit family in Iran because of Trump's executive order.
"It's huge," Fowler said. "Especially any time you're not able to see family, it's unfortunate."
The all-star's comments about how his family has been impacted by Trump's executive order — which is currently being blocked by federal courts — faced a torrent of backlash from fans who told Fowler to "be quiet play ball" and to "go back where you came from." Commenters also called on the Cardinals to "trade his black ass!" and described him as "property" of the team.
But Fowler, who is from Atlanta, is not backing down, tweeting that "athletes are humans, and not properties of the team they work for."
He also defended his comments to ESPN, describing his critics as "sensitive."
"I gave nothing away," Fowler said. "I'm always going to care for my family, and if a question is asked out of concern, I'm going to answer the question truthfully. It's not to hurt anybody. It's my perspective. It's unfortunate that people think of things that way, but I believe they're sensitive. I'm not the sensitive one."
Sports world speaks out against Trump
Fowler is the latest member of the sports community to speak out against Trump and his Muslim ban.
Several members of the New England Patriots, who won the Super Bowl Feb. 5, said they will not visit Trump's White House. 
"Basic reason for me is I don't feel accepted in the White House," free safety Devin McCourty told Time. "With the president having so many strong opinions and prejudices I believe certain people might feel accepted there while others won't."
A number of high-profile NBA players and coaches have also been critical of the president. Players like Thon Maker of the Milwaukee Bucks and Luol Deng of the Los Angeles Lakers — both of whom are from Sudan, one of the countries listed in Trump's Muslim ban — may be impacted by the administration's immigration policies, and coaches Steve Kerr and Gregg Popovich have repeatedly blasted Trump.
"I'm a rich white guy, and I'm sick to my stomach thinking about it," Popovich said of Trump's election. "I can't imagine being a Muslim right now, or a woman, or an African-American, a Hispanic, a handicapped person — how disenfranchised they might feel."
The Muslim ban was also criticized by NASCAR driver Dale Earnhardt Jr., Olympic gold medalist Mo Farah and Olympic fencer Ibtihaj Muhammad.
Fans tweet support for Fowler amid backlash
While Fowler was facing often racist backlash for his comments, other fans offered their support for the centerfielder.