'Get Out' Reviews: What are the critics saying about the Jordan Peele horror movie?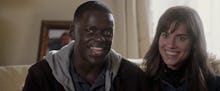 The year kicked off with a bang thanks to the massive success of M. Night Shyamalan's Split. Amidst a few duds like A Cure for Wellness, Get Out looks like it is the next stand out horror movie.  
From the mind of Jordan Peele — yes, Jordan Peele of Comedy Central's Key and Peele — Get Out is one of February's most interesting-looking films. The movie is getting rave reviews and as of this writing sits at 100% on Rotten Tomatoes. 
Written and directed by Peele, the film boasts an all-star cast featuring Allison Williams and Daniel Kaluuya, who play the film's couple Rose and Chris, respectively. They're ready to meet each other's parents, so Chris takes a trip with Rose to a weekend getaway at her parents' place. 
The trip begins as an attempt to examine and understand their daughter's interracial relationship, but things quickly take a turn. As the weekend progresses, things become more and more disturbing for Chris. 
The reviews are overwhelmingly positive for Peele's first major directing gig. Peele co-wrote last year's hit comedy Keanu that earned solid reviews, but critics are loving his twisted horror film even more. 
Get Out is earning praise for Peele's sharp direction and script, and he's garnering comparisons to horror icon John Carpenter. 
Richard Brody, New Yorker:
Peele's perfectly tuned cast and deft camera work unleash his uproarious humor along with his political fury; with his first film, he's already an American Buñuel.
Joshua Rothkopf, Time Out:
A horror film with the power to put a rascally grin on the face of that great genre subverter John Carpenter ('They Live'), 'Get Out' has more fun playing with half-buried racial tensions than with scaring us to death.
Brian Tallerico, RogerEbert.com 
A complex, accomplished genre hybrid that should alter [Jordan Peele's] business card.
Get Out also works as a horror hybrid. It's less concerned with scaring the audience and is aimed to get them to think with a mix of thrills: 
David Ehrlich, IndieWire:
'Get Out' may be deeply flawed, but it's about time Hollywood put some muscle behind a movie that was less interested in flattering audiences than it was in scaring them straight.
A.A. Dowd, A.V. Club:
'Get Out 'works so well as a gauntlet of social horror that it almost doesn't need its more traditional thriller elements.
The film also works as a satire rife with social commentary. Critics are commending the film for successfully discussing race within the horror genre:
Peter Debruge, Variety:
Blending race-savvy satire with horror to especially potent effect, this bombshell social critique from first-time director Jordan Peele proves positively fearless — which is not at all the same thing as scareless.
William Bibbiani, CraveOnline: 
It's not just a frightening concept, and it's not just terrifically suspenseful. It turns society on its ear in a way that only the best movies can.
Edward Douglas, Den of Geek:
Peele takes the concept behind 'Guess Who's Coming to Dinner' to its furthest, most genre extreme.
You can see for yourself when Get Out is released on Thursday, Feb. 23.  
Mic has ongoing movies coverage. Please follow our main movies hub here.