Nintendo Switch carrying case with charging would solve Nintendo's battery life problem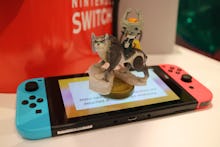 The Nintendo Switch's specs offer a lot to love, including a capacitive touchscreen that doesn't need a stylus, the ability to play on your TV or on-the-go and Joy-Con controllers that automatically charge when you attach them to the system. But it's not all butterflies and Rainbow Roads. The Nintendo Switch's battery life comes in at two-and-a-half to six hours of use, depending on the game. For larger games like Zelda: Breath of the Wild, you'll get just three hours of playtime per charge.
Three-hour battery life for a quick commute to work or school is fine, but it's less impressive if you're taking a road trip or flying across the country. Nonetheless, Nintendo has been pushing the Switch as a console for gaming on-the-go, even building some prop airplane seating for its hands-on event in January. 
Unfortunately, it doesn't look like the Switch will actually last through most flights, but there's a simple solution that Nintendo may be ignoring: a portable battery carrying case.
Nintendo Switch carrying case with built-in battery: Now you're playing with power 
Yes, the Nintendo Switch can be used with portable batteries packs that charge via USB, but this isn't quite what we mean. An official Nintendo Switch case with a built-in battery that could charge your system simply by placing the unit inside would solve everything. Unfortunately, the Hori Tough Pouch pictured above does no such thing.
A carrying case with its own battery would do nothing to increase the Switch's internal battery, but it would serve to lengthen play time — ideally by one or two entire charging cycles. 
Battery cases are also a popular trend across the consumer tech industry. Snapchat Spectacles come with a glasses case that charges the eyewear automatically when placed inside. Even though the glasses themselves pack a pretty small battery, the case extends battery life significantly.
Nintendo Switch carrying case: Inductive charging would be better than dumb old cords
Apple offers a similar solution for its wireless earbuds, the AirPods. The included case makes use of inductive charging. Instead of attaching a cable to each individual earbud, sliding the earphone into its slot is enough to move power from the case to the headphone. Similarly, inductive charging in a Nintendo Switch case would mean you'd simply place the console in the case to begin charging instead of needing to deal with plugs and cords.
Being able to quickly place your Switch in its case and know that it was charging would alleviate any worries of mediocre battery life. Even if you forgot to charge at home, you could still bring your Switch with you, knowing that the carrying case had juice to power it back up.
Plenty of other companies beyond Apple and Snapchat use a similar solution, including Samsung's Gear Icon X to Doppler Labs' Here Ones. So why not Nintendo? If the company wants to quell battery concerns once and for all, this is the way to do it.
More Nintendo Switch games, news and coverage
Looking for more Nintendo Switch news? Check out our comparison photos sizing up the Switch to the Wii U GamePad (part one and part two). Then take a look at a leaked video of the Nintendo Switch menu interface and dark mode features. 
If you're just getting caught up, here's everything you need to know about the console's price, release date, preorders, battery life and our hands-on review. And if you're interested in the Nintendo Switch's games, here's info on the new Super Mario Odyssey, Legend of Zelda: Breath of the Wild, Splatoon 2, Xenoblade Chronicles 2, 1-2-Switch and the goofy boxing game Arms.