DNC Chair Election: Here are the candidates, key dates, endorsements and more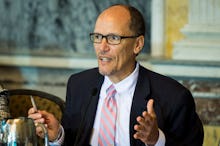 Since a July 2016 email scandal forced the resignation of Democratic National Committee Chair Debbie Wasserman Schultz, the DNC has been helmed by interim chair Donna Brazile. 
The DNC will elect a new chair on Saturday, and the person picked will be responsible for crafting the new vision for a Democratic party looking to rebuild after President Donald Trump upset presidential candidate Hillary Clinton to clinch the White House and the Republicans strengthened their hold on both houses of Congress.
Here's what you need to know about Saturday's election:
Who's running?
Nominees for DNC chair are Rep. Keith Ellison; former labor secretary Tom Perez; South Carolina Democratic Chairman Jaime Harrison; Mayor Pete Buttigieg of South Bend, Indiana; and Idaho Democratic Party Executive Director Sally Boynton Brown.
Ellison (who's been endorsed by Sens. Bernie Sanders and Elizabeth Warren) and Perez (who's been endorsed by former Vice President Joe Biden and former Attorney General Eric Holder) carry the most name recognition and appear to be the favorites heading into Saturday's election. 
Ellison, the first Muslim to be elected to Congress, has garnered support among the more progressive wing of the Democratic Party. Perez, who announced his candidacy in a Mic exclusive, is a former official of Barack Obama's administration and is seen by many as being representative of the party's more establishment wing. 
Harrison, Buttigieg and Boynton Brown don't have the same broad national profiles as Ellison and Perez, but are young, potential rising stars within the party. 
How does the election work?
The party's charter requires the Democrats to hold its election for DNC chair before March 1. 
A ballot will go out Tuesday before the 447 voting members hold the election during the party's meeting in Atlanta on Saturday. Members hold as many rounds of votes as it takes until one of the candidates receives the 224 votes required to win and helm the party.
Under interim leadership, the DNC has been largely absent from the fight against Trump as opponents protest his administration and groups like the American Civil Liberties Union battle the president in court. 
After Saturday, Democrats hope to begin rebuilding the party and giving structure to the resistance.
"We need to take the fight to Donald Trump," Perez told NPR in January. "And we will continue that fight because this is a battle for the heart and soul of who we are as Americans."