'Fire Emblem Heroes' Tier List: Updates and new characters modify some hero rankings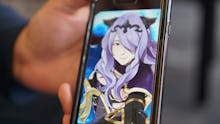 The process of getting new characters in Fire Emblem Heroes is 100% luck, so it's tough to plan out your dream team in a definitive way. But, of course, that's not preventing the more data-minded members of the Fire Emblem Heroes community from assembling tier lists that rank its large roster of heroes from best to worst.
We previously published a rundown of Ranked Boost's tier list when Fire Emblem Heroes first came out — but now that it's been a few weeks, some rankings have changed. For example, Lucina seems to have been bumped down a few slots by other red-colored five-star heroes.
Before we dive into this list, it's important to realize these are largely subjective, meaning you shouldn't treat them as the indisputable truth. It's unlikely you'll have all the top-tier heroes anyway. So just use these lists as a general guide as you assemble a team of characters that work with your particular roster.
Fire Emblem Heroes tier list rankings: Ryoma, Nowi, Hector and Takumi take the top spots
According to Ranked Boost — whose list is designed entirely for player-versus-player arena matches — the best characters from each color type are Ryoma (red), Nowi (blue), Hector (green) and Takumi (colorless). Other top-tier heroes include Young Tiki (red), Cordelia (blue), Lyn (red) and Camilla (green).
The four new characters added to Fire Emblem Heroes recently have also been included in this updated tier list: Eirika, Ephraim and Julia all occupy the "A" tier — the second-highest, just below "S" — but Seliph is ranked lower, in the "B" tier. Still, Ranked Boost considers that "above average."
Unfortunately, the sad, low-tier rankings for most of the heroes you start the game with — like Sharena — are unchanged from Ranked Boost's original tier list. (For more specific information about hero rankings within the various color categories, check out the full tier list page on Ranked Boost here.)
In general, you should expect to see the five-star and five-star focus heroes in the top spots of every tier list. That's usually the best indicator of a character's quality if you don't have a tier list on hand.
More Fire Emblem Heroes news, updates, tips and tricks
If you're still struggling to figure out Fire Emblem Heroes, we're here to help. Check out our handy guide on how to get started if you're new to the series, along with explainers on using Hero Feathers, changing nicknames in the game, boosting your characters with Unlock Potential, upgrading character star ratings and adding friends in Fire Emblem Heroes.