Candice Wiggins says she was harassed in the WNBA for being straight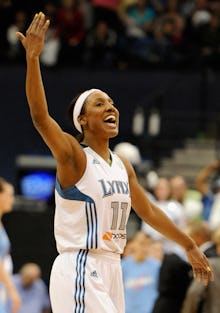 Retired WNBA player Candice Wiggins said she was bullied during her time in the league — for being straight.
Wiggins told the San Diego Union-Tribune in an interview published Monday that she was a target because of her heterosexual identity. "Me being heterosexual and straight, and being vocal in my identity as a straight woman was huge," the former Minnesota Lynx guard said. "I would say 98% of the women in the WNBA are gay women. It was a conformist type of place. There was a whole different set of rules they [the other players] could apply."
Wiggins, 30, retired in March after an eight-year professional career that included stints on the the Minnesota Lynx, Tulsa Shock, Los Angeles Sparks and the New York Liberty. She told the Union-Tribune she "didn't like the culture inside the WNBA" and criticized other players for what she called attempts to "mirror" the attitudes of male players.
"So many people think you have to look like a man, play like a man to get respect," Wiggins told the Union-Tribune. "I was the opposite. I was proud to a be a woman, and it didn't fit well in that culture." Wiggins said she experienced "jealousy and competition" from other players and that people "deliberately" tried to hurt her.
But the harassment Wiggins says she experienced in the WNBA didn't keep her from being, as she put it, "vocal" about her straight identity.
Wiggins is planning to write a memoir about her time in the WNBA, she told the Union-Tribune. She also said she's considering pursuing a career in professional beach volleyball, where she said she thinks the culture will be a better fit — especially thanks to what she called the sport's "celebration of women and the female body as feminine, but strong and athletic."