Where are the 2017 Oscars? Location and ticket information for the 89th Academy Awards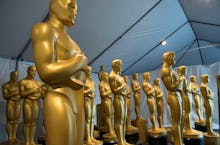 Hollywood's biggest night is almost here. The 89th annual Academy Awards will air live on ABC Sunday, Feb. 26 at 8:30 p.m. Late-night comedian Jimmy Kimmel will host the ceremony, which will be held at the Dolby Theatre in the Hollywood neighborhood of Los Angeles. 
While tickets to the Oscars aren't up for grabs, fans of the nominees can enter to win a "fan experience" from the Academy. Winners get to sit in the bleachers of the red carpet and watch the action before the ceremony begins. Prize-winning fans don't actually go inside to watch the ceremony, but they have the in-person experience of watching the stars arrive for the awards. 
Another way to attend the most exclusive party of the year is by being a seat-filler: a person who sit in for a famous person when that person goes onstage to present an award. 
The race to the 2017 Oscars resulted in some hotly anticipated competition, with the biggest battle easily being the competition between La La Land, which tied for the most nominations ever received, and Hidden Figures for best picture. Following 2016's #OscarsSoWhite, the nominees also include Viola Davis, who broke a record for the most nominations for a black actress, and Dev Patel, who is the third ever Indian actor to receive a nomination.
Mic has ongoing Oscars coverage. Please follow our main Oscars hub here.