'Elder Scrolls 6' Release Date Rumors: Bethesda has three new projects in the works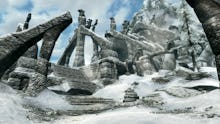 We know precious little about The Elder Scrolls 6, the supposed next entry in Bethesda's long line of open world fantasy RPGs. Skyrim came out all the way back in 2011 and Fallout 4 came out well over a year ago. So you'd think Bethesda is working on something new, right?
That assumption is indeed correct, according to Bethesda director Todd Howard's interview with Glixel. However, don't just presume that any of those games are The Elder Scrolls 6 or Fallout 5.
Elder Scrolls 6: Bethesda's new projects are bigger than anything before
Howard told Glixel that Bethesda has three new projects in the works. One of them is a mobile game, which could be something that iterates on Fallout Shelter, the studio's mobile debut. He revealed that the other two projects are more in line with what people want from Bethesda, but somehow even more massive than previous games. 
"I can't talk a lot about them, but I can say that they're bigger than anything we've ever done," he said. "They're a bit different, but definitely in the wheelhouse that people are used to from us."
"Different" is the operative word here. Given that The Elder Scrolls 6 was apparently not in active development as recently August 2016, could these two games be something completely new for Bethesda? Howard's comments hint that, whatever they are, the two new games will still fall into the open world RPG format that the studio has become beloved for. They also suggest that the games might not fall into the Elder Scrolls or Fallout franchises, which is simultaneously exciting and disappointing for Elder Scrolls fans.
Whatever these new games are, don't expect to hear specific details about them in the immediate future. Fallout 4 was announced four years after Skyrim's release. These games take time and we won't hear more until Bethesda is good and ready to tell us more.
More gaming news and updates
For more gaming news, check out the latest from Mic. Here's a collection of cute Overwatch-inspired Valentine's Day cards, 15 photos that compare the Nintendo Switch to the Wii U and other gadgets, a beginner's guide to For Honor and a deep dive into the new trend of Nazi-punching video games.