Milo Yiannopoulos resigns from 'Breitbart'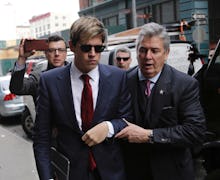 Less than an hour before a scheduled press conference in New York's SoHo neighborhood Tuesday afternoon, alt-right provocateur Milo Yiannopoulos announced he was resigning from Breitbart, the right-wing news site that hosted much of his outlandish writing.
"Breitbart News has stood by me when others caved," Yiannopoulos said in a statement. "I would be wrong to allow my poor choice of words to detract from my colleagues' important reporting, so today I am resigning from Breitbart, effective immediately. This decision is mine alone."
The "poor choice of words" is likely in reference to Yiannopoulos' turbulent weekend, in which several videos resurfaced of the internet troll defending sexual relationships between men and underage boys. 
At the press conference some 20 minutes after his resignation, Yiannopoulos vacillated between an apologetic tone and harsh rhetoric for his political enemies — calling the attack against him a "cynical media witch hunt" even as he apologized to other victims of child abuse who may have been offended by his comments.. 
"It's obvious that these were highly coordinated and very well-planned attacks on me," Yiannopoulos said. "But I have to take responsibility for what I said."
As for his future plans, Yiannopolous told reporters he would be focusing on non-journalistic work. "I'm going to focus now on entertainment and education and less perhaps on journalism," he said.
In the videos that resurfaced this week, Yiannopoulos said, "People are messy and complex and actually, in the homosexual world particularly, some of those relationships between younger boys and older men, those coming-of-age relationships, the relationships in which those older men have helped those young boys to discover who they are and give them security and safety and provide them with love and a reliable, a rock, where they can't speak to their parents."
When an offscreen voice suggests what he described sounds like molestation, Yiannopoulos responded with, "I'm grateful for Father Michael. I wouldn't give nearly such good head if it wasn't for him."
Two sources had told a Washingtonian reporter over the holiday weekend that, in light of the pedophilia defenses, at least six Breitbart employees were threatening to walk from their jobs if Yiannopoulos wasn't fired.
Also on Monday, publisher Simon & Schuster dropped Yiannopoulos' upcoming book, Dangerous, which was set for release in June. 
At the press conference Tuesday, Yiannopoulos said he would be going ahead with the book, though "it may not be from the same publisher." 
The pedophilia comments also led to the America Conservative Union to drop Yiannopoulos as a speaker at its annual conference, CPAC, on right-wing Washington's biggest to-dos.
"I know that CPAC has a long and complex history with gays," Yiannopoulos said at the press conference. "If there's any extent to which homophobia played into CPAC's decision, I certainly wasn't aware of it." He added it would be "indecorous" to attend CPAC after being kicked off the speaker list.
Earlier in the weekend, Yiannopoulos was riding high. On Friday, he appeared on Bill Maher's late night HBO show, Real Time With Bill Maher, and his CPAC speech was announced the following morning.
Feb. 21, 2017, 4:30 p.m.: This story has been updated.