South Sudan is facing a famine, the UN declared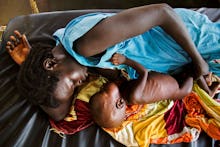 South Sudan is officially experiencing a famine, with more than 40% of its population suffering from food insecurity and lacking access to proper nutrients, three United Nations agencies declared on Monday.
As war and economic challenges ravage the country, nearly 100,000 South Sudanese find themselves on the brink of starvation, with an additional 1.1 million approaching famine conditions, according to a report by the U.N. World Food Programme.
Along with the two other U.N. agencies that issued the declaration — the Food and Agriculture Organization of the United Nations and the United Nations Children's Fund — the WFP said that the number of people experiencing food insecurity in South Sudan is projected to rise to 5.5 million by July if the problem is left unaddressed.
South Sudan became the world's youngest nation in 2011 after a vote to establish its as independent from Sudan passed. Since then, a bitter civil war has raged in the absence of a sturdy government, with what had started out as small political disagreements and government corruption spiraling into full-on ethnic violence, according to the BBC.
"Famine has become a tragic reality in parts of South Sudan and our worst fears have been realized," FAO Representative in South Sudan Serge Tissot said in the report. "Many families have exhausted every means they have to survive."
Tissot said those affected by the famine are predominantly farmers whose ability to produce vital crops has been disrupted by the ongoing war in the country. 
"They've lost their livestock, even their farming tools," he said. "For months there has been a total reliance on whatever plants they can find and fish they can catch."
Classifying a famine
South Sudan joins a long list of countries classified as having the highest level of food insecurity by the Integrated Food Security Phase Classification. 
According to the U.N., the official "famine" designation is given only after a country meets a certain number of criteria. Among them: 
At least 20% of households in an area face extreme food shortages with a limited ability to cope, acute malnutrition rates exceed 30% and the death rate exceeds two persons per day per 10,000 persons.
While South Sudan has become the most recent country to earn the grim distinction, the Guardian reports that at least three others are currently teetering on the brink of famine: Yemen, Nigeria and Somalia.
In Yemen, a child under 5 dies every 10 minutes of preventable causes, including acute malnutrition and access to adequate medical care. Nigeria and Somalia are also facing dire food insecurity, and when combined with Yemen and South Sudan, the four countries could see an astounding 1.4 million child deaths as a result of malnutrition in 2017, according to UNICEF.
WFP Country Director Joyce Luma said that although the humanitarian community has been working desperately to try to head off catastrophe in South Sudan, "there is only so much that humanitarian assistance can achieve in the absence of meaningful peace and security, both for relief workers and the crisis-affected people they serve." 
"We will continue doing everything we possibly can to hold off and reverse the spread of famine," she said.