'Ghost Recon Wildlands' Open Beta Date and Preload: How to download it on PS4 or Xbox One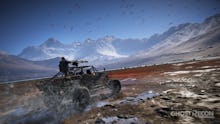 The open beta for Ghost Recon Wildlands is almost here. After Ubisoft confirmed its existence, we now know that it will run from Feb. 23 to 27 on Xbox One, PS4 and PC. It's totally free and you can try it on any of those platforms without much effort at all.
Ghost Recon Wildlands Open Beta Preload: How to download it now
If you want to have the 24GB beta installed on your system in time to play it on Thursday, you can preload it on any of the three platforms right now. Simply go to the digital storefront on your platform of choice, search for "Ghost Recon Wildlands Open Beta" and it should be there.
You can also add it to your download queue through your internet browser. Just click on the relevant link to grab it from the PlayStation Store, the Microsoft Store or Steam.
Ghost Recon Wildlands takes the "play your own way" open world antics of a game like Metal Gear Solid V and injects four-player co-op into the formula. You can sneak your way around Bolivian drug compounds and stick enemies with your knife, or just ram through the front gate in a truck. Most importantly, you can do any of this with three friends.
Thanks to the open beta, you can try the game out for yourself before deciding whether or not to spend $100 to get everything ahead of its March 7 release date.
More gaming news and updates
For more gaming news, check out the latest from Mic. Here's a collection of cute Overwatch-inspired Valentine's Day cards, 15 photos that compare the Nintendo Switch to the Wii U, a beginner's guide to For Honor, and a deep dive into the new trend of Nazi-punching video games.