The most controversial Oscar snubs of all time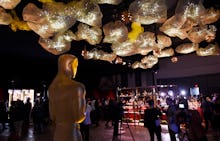 Hollywood's biggest night is quickly approaching, and movie lovers everywhere are debating which films from 2016 will take home trophies. Before finding out which dreams will come true and who might be overlooked, let's take a look back at some of the biggest surprise Oscar snubs of years past. 
1) Bette Davis, Of Human Bondage 
The 1934 film adaptation of  W. Somerset Maugham's novel starred Bette Davis as tea-room waitress Mildred Rogers, who draws Philip Carey into an obsessive and abusive relationship. Davis originally did not receive a nomination for her performance, and the public was so upset by the oversight that a special write-in campaign was permitted to recognize her. 
2) Judy Garland, The Wizard of Oz 
Judy Garland won hearts all over the world with her performance in the MGM musical as Dorothy Gale, the plucky girl from Kansas who ends up over the rainbow and determined to return home. The New York Times described her as "a pert and fresh-faced miss with the wonder-lit eyes of a believer in fairy tales," yet Garland did not receive an Academy Award nomination for her timeless performance.
3) Peter O'Toole, Lawrence of Arabia 
Peter O'Toole was heralded for his performance in this 1962 blockbuster film, which won seven Academy Awards. Its accolades included best picture, but failed to recognize O'Toole's performance chronicling his experiences in the Arabian Peninsula during World War I. O'Toole went on to earn seven more nominations throughout his career — but he never took home an Oscar. 
4) Martin Scorsese, Taxi Driver 
This psychological thriller is famous for the cast, the story and the famous line, "You talkin' to me?" But one aspect of the film that wasn't entrenched in history was an award nomination for director Martin Scorsese — even though the film received nominations for best picture, best actor in a leading role for Robert De Niro and best actress in a supporting role nominations for Jodie Foster. 
5) Jack Nicholson, The Shining 
The idea of Jack Nicholson accepting an award for his performance as Jack Torrance by saying, "Here's Johnny!" is a thrilling fantasy, but the opportunity never materialized, as Nicholson did not receive an Oscar nomination for his role in the Stanley Kubrick-helmed adaptation of the Stephen King novel. 
6) Leonardo DiCaprio, Titanic 
Despite his starring role in the 1997 blockbuster that drove devoted fans to watch the movie over and over, Leonardo DiCaprio did not receive an acting nomination for his performance as Jack Dawson. The movie took home 11 Oscars of 14 total nominations.
7) Kathryn Bigelow, Zero Dark Thirty 
Zero Dark Thirty, a grim, gritty and powerful film, was nominated for best picture — but its director, Kathryn Bigelow, was not recognized with an Oscar nod. Long criticized for its lack of racial and gender diversity, the Academy was accused of overlooking Bigelow — who became the first woman to win two best director awards from the New York Film Critics Circle — because of her gender. 
8) Ava DuVernay, Selma 
The critically acclaimed civil rights film that narrated the epic march from Selma to Montgomery tapped into heated emotions about racial relations in America — and that was before the cast wore "I Can't Breathe" shirts to a screening. The film, considered controversial due to its depiction of former President Lyndon B. Johnson, received nominations for best picture and best original song. The omission of director Ava DuVernay, a black woman, from the nominations was hotly debated. 
9) Alfred Hitchcock 
Despite securing five nominations, somehow the acclaimed director known for suspenseful films like Psycho, The Birds, Vertigo and Rebecca never won an Oscar. 
Mic has ongoing Oscars coverage. Please visit our main Oscars hub.