Mary Trump: 5 things to know about Donald Trump's mother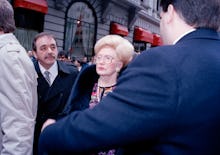 President Donald Trump's mother, Mary Anne MacLeod Trump, was one of many Scottish immigrants who moved to the United States and Canada in the early 20th century. In 1930, she arrived in New York in search of better job opportunities.
In 1936, she married Fred Trump, a real estate developer, and gave birth to Donald Trump in 1946. She witnessed her son's rise as a business tycoon but did not live to see him become president, as she died in 2000. 
Here are five other things to know about Mary Trump.
She came to the U.S. to work as a domestic servant
During Donald Trump's run for president, his campaign website had this to say about low-earning immigrants, according to Fusion: "The influx of foreign workers holds down salaries, keeps unemployment high ... We need to control the admission of new low-earning workers."
Trump's own mother, as Fusion reported, immigrated to the United States as a low-wage worker. She arrived in America to work as a domestic servant with $50 to her name — roughly $716 in present-day currency. 
"... Trump has talked about preventing 'low-earning' immigrants from entering the U.S., and it seems clear that Macleod would have fit into that category when she first arrived," the outlet wrote.
She was a philanthropist  
According to her obituary in the New York Times, Mary Trump was a philanthropist who — along with her husband, Fred Trump — supported a number of charities, including the Salvation Army, the Lighthouse for the Blind and the Boy Scouts of America.
She was a fan of Queen Elizabeth II 
"Whenever anything was on about, ceremonial about the Queen she could sit at the television and just watch it," Donald Trump said in a 2010 documentary, according to CNN. "She had great respect for the Queen and for everything [she] represents."
She gave her son advice
In May 2014, Donald Trump tweeted a bit of advice from his mother.
The president has expressed great respect for his mother. In his 1997 book The Art of the Comeback, Trump wrote that part of his problem with women "has been in having to compare them to my incredible mother, Mary Trump ... My mother is smart as hell." 
He described her as a traditional housewife but said she "also had a sense of the world beyond her," according to the New Yorker. 
Mary and her son had matching hair 
Like mother, like son. Both Mary and Donald Trump had a knack for hair sculpting, with the former often appearing in pictures sporting a "dramatic orange swirl," according to the New Yorker. 
"Looking back, I realize now that I got some sense of showmanship from my mother," Trump wrote in his 1987 book, The Art of the Deal. "She always had a flair for the dramatic and grand."