New 'Overwatch' Characters: Efi Oladele, a potential new hero, teased by Blizzard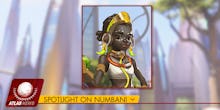 Jeff Kaplan recently shut down rumors that Doomfist would be the next Overwatch hero, but it looks like the fandom has a new character to rally around. Efi Oladele is a young girl from Numbani who's been revealed through a fictional interview on the Overwatch website.
Blizzard has not announced whether Oladele will be a new playable character yet, but that certainly seems like what the post is setting up. Here's what you need to know about what appears to be the next new Overwatch character.
New Overwatch character Efi Oladele revealed — but it's unclear how she'll fit in
The Overwatch blog post — structured as though it's an interview celebrating Oladele's win of the "Adawe Foundation's prestigious 'genius grant'" — reveals all sorts of information about this new character, who seems to specialize in robotics and artificial intelligence.
"After my mom and dad got me my first robotics kit, I became obsessed with putting together little drones," Oladele says. "When I started to get good at it, I tried to build robots to do my chores and help around the house. My parents think it's cheating ... It's no fair!"
She continues, "I want to create things that make our lives better. And someday, my dream is to build something that can keep us safe, like the new OR15s! I think that would be great."
At the end of the post, the interviewer asks what Oladele plans on doing with the grant money she's been awarded.
"Oh ... I have an idea ...," she teases. When pressed for more information, she says, "It's a secret for now ... but my parents are taking me on a trip to celebrate! It'll be my first time flying, so I can't wait."
Notably, if Efi Oladele is indeed the newest Overwatch hero, she'll be the third woman of color in a row added to the Overwatch roster since launch.
When Blizzard announces more, we'll let you know.
More Overwatch news and updates
For more on Overwatch, check out the rest of what Mic has to offer. Here is a list of our predictions for what seasonal events might appear in 2017, a look at a very funny but naughty meme on the Overwatch subreddit, an interview with the creator of an awesome new Overwatch zine, the full patch notes for Overwatch version 2.03, a full explanation of the different types of health in Overwatch, our definitive ranking of every Overwatch hero, a roundup of awesome gender-bent Overwatch cosplay and a giant Overwatch FAQ for beginners.