iPhone 8 Rumors: Here's another awesome concept video for Apple's next release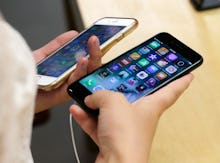 The iPhone 8 rumors are coming in fast. Apple's next-generation iPhone, which will likely be released in 2017, is gearing up to be a major upgrade over 2016's iPhone 7 — and also the iPhone 7s and 7s Plus, which are rumored to be released alongside the iPhone 8 later this year, according to Fast Company.
The latest iPhone 8 leaks are intense. We just heard about an alleged new front-facing camera with facial recognition that can scan your mug in 3-D and project it onto characters in the games you play, according to reputable analyst Ming-Chi Kuo. This is just the latest intel: We already know about the updated OLED display, wireless charging and the lack of the home button on Apple's next device. (BGR has a nice roundup of the latest rumors.)
Neat. So what will the iPhone 8 look like?
iPhone 8 images: Drool over the latest batch of concept videos
If you're already hyperventilating over the iPhone 8 rumors and want to see some iPhone 8 images, your best bet is the endlessly fascinating collection of iPhone 8 concept videos that have taken over YouTube. They're basically fantasy designs of the new iPhone in motion, based on existing leaks and rumors.
Take this one, by TechDrivenTimes, that explores some possibilities for the iPhone 8's user interface without a home button.
iPhone 8 images: Here's another great iPhone 8 concept video
Then there's this delightful mockup, courtesy of ConceptsiPhone. Note designer Moe Slah's vision for a sleek new operating system — "iOS 11" — that incorporates the Touch ID function into the bottom row of icons. Here you can also see the potential capabilities of an edge-to-edge display.
Apple seems to be investing big in custom avatars: Another report from today reveals a patent for a custom character app that looks a lot like Bitmoji. We're looking forward to seeing renderings of the 3-D face scans in augmented reality and learning what other ways Apple plans to use this technology. If personalized gaming becomes an iPhone 8 flagship feature, it'll hopefully be implemented in a wide variety of titles at launch. You'll have more than one way to create yourself in NBA 2K17.