'WWE 2K17' Hall of Fame Showcase DLC Update: Breaking down the final piece of the puzzle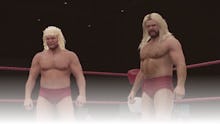 After months of speculation, the Hall of Fame Showcase downloadable content for WWE 2K17 has finally arrived. The DLC is here and we're ready to dive in.
The HOF Showcase is the final piece of DLC for the game. WWE 2K17 didn't have a full showcase mode as they have in the past. So this addition adds a new layer to the experience.
The showcases are essentially a set of matches which carry specific in-match tasks for the gamer to complete. 
This showcase highlights the members of the 2016 WWE Hall of Fame class. Here's a look at all of the matches, characters and arenas that fans have to play through in the HOF Showcase:
•The Fabulous Freebirds (Michael "P.S." Hayes & Buddy Roberts) vs. Kerry Von Erich & Kevin Von Erich - WCCW 1986
Completing those tasks unlocks the characters, attires and arenas in the showcase matches. 
Coincidentally, Diamond Dallas Page is included in one of the Freebirds matches. He was just named to the WWE 2017 Hall of Fame class along with Teddy Long, the Rock 'n' Roll Express and Kurt Angle.
That group will be honored at WrestleMania 33 in April. Perhaps they will be featured in next year's game.
Our fingers are crossed for a licensed render of Kurt Angle in the game.
More sports gaming news and updates
Are you a sports gamer? Check out more content from Mic, including news on EA Sports' 2017 plans for titles like NBA Live 18 and EA Sports UFC 3. There's also details on RBI Baseball 17, and the latest patch notes on WWE 2K17's 1.06 update.