Chris Brown, Karrueche Tran restraining order: Everything we know about the latest accusations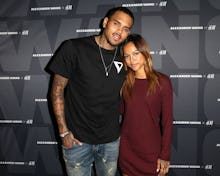 Chris Brown admitted weeks ago that he loves to make his ex-girlfriends' lives miserable. "If I love you, bitch, ain't nobody gonna have you," Brown said in a clip posted to Instagram, literally admitting to stalking women. "I'm gonna make you miserable." 
Now Karrueche Tran, one of Brown's exes, has taken steps to stop her abuse by requesting a restraining order against the R&B singer. A Los Angeles judge has ordered Brown to stay 100 yards away from Tran and refrain from contacting her, the Associated Press reported Tuesday. In her court filings, Tran wrote that Brown had "repeatedly threatened her since December."
According to TMZ, Tran alleged Brown threatened to "take me out" and "shoot me." She also claimed the singer previously "punched me in my stomach twice" and "pushed me down the stairs," though it's unclear whether she reported the alleged acts of violence to the police at the time. The allegations, however, are too painfully familiar to take lightly.
According to the alleged timeline, Brown's abuse of Tran would have occurred shortly after he pled guilty to assaulting previous girlfriend Rihanna, therefore violating his parole. Brown's parole ended in 2015 after several compromising incidents, including a guilty plea after assaulting a man outside a Washington, D.C. hotel and multiple stints in rehab.
The court order protecting Tran requires Brown to surrender any firearms until a March 9 hearing. TMZ reported the order covers Tran, her mother and her brother, though Brown has allegedly targeted Tran's friends, throwing a drink at one.
Tran and Brown have had an on-again, off-again relationship for years since first making their coupling public back in March 2011. They split in 2015 after it was revealed that Brown had fathered a daughter named Royalty with model Nia Guzman-Amey. However, Brown tried unsuccessfully to reconcile with Tran, according to a 2015 interview Tran gave to OWN.
"Don't be mad at me because our relationship is over due to your lack of loyalty," Tran wrote on Instagram in June 2015, seemingly responding to a rumor the two were getting back together. "You know what's weak? You forcing yourself into my car ... my broken window ... blowing up my phone ... trying to shower me w gifts [sic] ... Man the fuck up and change the bs [sic] in your life like I've told you several times."
Earlier in 2017, Tran found herself at the center of the fleeting feud between Brown and Soulja Boy, in which the two swore to fight each other over a phone call Brown allegedly made to ask Soulja Boy to stay off Karrueche's Instagram.
"First off, this drama between the both of these two is so ridiculous it makes no sense," Tran wrote on Instagram in response. "We just brought in a new year and this what we doing? [sic] Leave the extra'd out, rah rah shit behind. This isn't cool or funny."
At this point, a restraining order may be the best option to ensure Brown's alleged advances stop for good. 
Mic has reached out to Brown's team for comment and will update this post if we hear back.
Mic has ongoing music coverage. Follow our main music hub here.