'Zelda: Breath of the Wild' Review Embargo Leaks: When to expect impressions and spoilers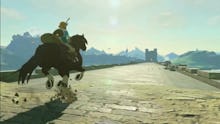 The Legend of Zelda: Breath of the Wild release date is nearly upon us. With less than two weeks to go before the Nintendo Switch is made available, the console's big launch title will soon make its way to store shelves too. But before then, reviewers will get to kick the tires of the latest Zelda game. The question is, when can you expect to read about their first impressions?
Zelda: Breath of the Wild review embargo revealed
Generally, reviewers have to keep their knowledge of the game and even the dates they can start to talk about it under wraps. However, in the case of Legend of Zelda: Breath of the Wild, that date has been leaked. According to ThisGenGaming, critics reviewing Zelda will offer up initial impressions on Feb. 24 and unleash their full reviews on March 2. 
While reviews of Zelda: Breath of the Wild may be out on March 2, you'll still need to wait an entire day before you can get your hands on the game itself, assuming you get in a preorder or plan to buy the game digitally. While BotW is still available at many retailers, the physical version of the game could very well sell out before March 3 — as it has in the case of Amazon. At least you'll have those March 2 game reviews to read while you wait.
Check out more Nintendo Switch news and coverage
Check out our comparison photos sizing up the Switch to the Wii U GamePad, along with details on the console's price, release date, preorders, battery life and our hands-on review. If you're interested in the Nintendo Switch's games, here's info on the new Super Mario Odyssey, Legend of Zelda: Breath of the Wild, Splatoon 2, Xenoblade Chronicles 2, 1-2-Switch and the goofy boxing game Arms.