'The Detour' season 2 is a wild ride without the trashed blue minivan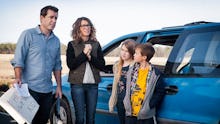 The Detour is one of the funniest and daring comedies on TV right now. 
Husband-wife team Jason Jones and Samantha Bee have successfully created a hilarious — yet disturbing — follow up to the first season of their TBS comedy. Season two of The Detour premieres Tuesday night, reuniting viewers with the Parkers for another bizarre adventure. This time the blue minivan is staying in park though. While season one followed the off-key family on their journey to Florida so that Nate could stop his former company from releasing a toxic product — which was really just doorknob cleaner — season two plants Nate, Robin, Delilah and Jared right in New York City.
What could possibly go wrong in the Big Apple? Oh dear lord. New York City is the perfect backdrop for the comedy, which doesn't shy away from covering hot topics like racism and immigration law.
Jason Jones and Natalie Zea reprise their roles as Nate and Robin Parker, loving parents to their tweenage twins, Delilah and Jared. But Nate and Robin aren't without their flaws. In fact, the season two premiere picks up by addressing the bombshell dropped in the season one finale — Robin is not who she says she is. Who is Robin? And why exactly are the police interested in her? It's not a simple story to tell, and The Detour shines while exposing the shady backstory of the Parker matriarch.
Nate and Robin continually get caught up in their own drama and have no problem airing their dirty laundry out — in front of their horrified children. There is no denying they love their kids and are trying to do what's best for them, but they can't get out of their own way. Nate continually tries to be the moral compass of the family but keeps putting himself in situations he can't seem to get out of. Robin, on the other hand, has demons from her past — sexy demons, we might add — that she just can't shake.  
Yes, the chaotic road trip in the destroyed blue minivan is missed. There are no stops at restaurants called "Conquistador" or overnight stays at cricket-infested hotels. But the funniest moments in the series come when the whole gang is together. 
The Detour season two premieres on TBS Tuesday at 10 p.m. Eastern.