NYPD is investigating online threats made against Muslim activist Linda Sarsour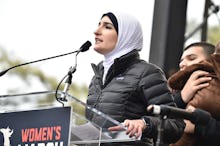 On Tuesday, the New York Police Department's Hate Crimes Task Force announced it's investigating a threat made on social media against prominent Brooklyn activist Linda Sarsour, the New York Daily News reported.
A man identified as Glenn Maccioli asked to find Sarsour's home location on Facebook so he could "spit in her face." 
"This bitch is in Brooklyn," Maccioli reportedly wrote. "Anyone know where? I would like to spit in her face."
Maccioli reportedly took issue with Sarsour referring to President Donald Trump and Israeli Prime Minister Benjamin Netanyahu as "bigoted peas in a hateful pod."
A few Facebook commenters told Maccioli that Sarsour, the executive director for the Arab American Association of New York, has an office in the Bay Ridge neighborhood in Brooklyn. Maccioli then invited commenters to watch him follow through on his threat.
"If I get the address I will tell you all where and when," Maccioli wrote. "That's my word."
Sarsour reported the threat to the NYPD and the department opened an investigation. No arrests have been made.
Sarsour was one of the main organizers for the Women's March on Washington. Sarsour did not yet respond to Mic's request for comment.