Ben Taub Hospital: Police say no active shooter at Houston medical center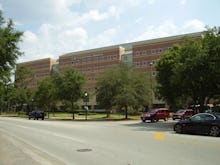 Houston police responded to reports of a shooting Tuesday at the city's Ben Taub Hospital. Spokesman Kese Smith told the Houston Chronicle that police received word around 2 p.m. that shots had been fired at the hospital, prompting police and SWAT teams to respond to the scene.
According to local TV station KHOU, Police Chief Art Acevedo told reporters that despite multiple calls about an active shooter situation, officers cleared the hospital without finding a suspect.
"We have not found a suspect and we have not found evidence of an active shooter," Acevedo said. 
A second search of the hospital also found no evidence of a shooter, Acevedo said later, speaking to reporters. He said that police would "allow the hospital to take back control of the hospital" and resume normal operations, but that SWAT officers would remain on every floor as a "precautionary measure."
Patients, family members and hospital staff were safely evacuated from the building while police conducted an initial search. Acevedo confirmed in a tweet that "all patients and employees" were safe.
Ben Taub Hospital is part of Houston's Texas Medical Center and serves as a teaching hospital associated with the Baylor College of Medicine. The hospital has more than 480 beds and a trauma center that sees more than 100,000 emergency patients annually.
Feb. 21, 2017, 5:00 p.m.: This story has been updated.