'Pokémon Go' Update: Pikachu gets a party hat for Pokémon Day event celebration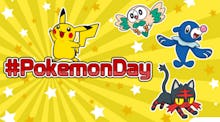 If you enjoyed Pikachu's Christmas hat in Pokémon Go, wait until you get a load of this. Niantic has something big coming later this month for Pokémon Day.
Feb. 27 is designated as Pokémon Day, and there are a handful of events in different Pokémon properties to celebrate the day. In Pokémon Go, Pikachu gets a special surprise.
Pokémon Go Update: Pikachu's new Pokémon Day style
It seems as though headwear and Pikachu are a winning combination to celebrate special events in Pokémon Go. For Pokémon Day, Pikachu gets a party hat just like he had a Santa hat for Christmas.
Here's the announcement from the Pokémon Company:
Pikachu is ready to lead the Pokémon Day celebration in Pokémon Go. From Sunday at 1:00 p.m. Pacific to March 6 at 1:00 p.m. Pacific, any Pikachu you encounter in the wild will be wearing a festive party hat! The Pikachu you catch during that time will keep its party hat forever, so be sure to look for this special Pikachu during its short time in the wild.
We'll keep an eye out for Pokémon Go players who evolve a Pikachu with the party hat to see if Raichu gets to keep the hat. Stay tuned!
Check out more Pokémon Go guides, tips and tricks
If you're booting up the game for the first time in a while to get ready for Gen 2, be sure to check out Mic's guides on how to get stardust, how to determine how long it will take you to reach level 40, the kind of Pokémon you get from 10-kilometer eggs, how to create new PokéStops, how to maximize your chances of catching Pokémon and how PokéStops distribute Pokémon eggs. Also check out how to catch Gen 2 baby Pokémon, our analysis of post-balance update Chansey and Rhydon and everything you need to know about finding the long-awaited Pokémon Ditto.