Milo Yiannopoulos: "Going bankrupt is worse" than experiencing sexual abuse as a child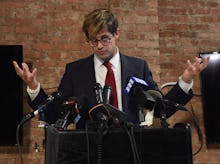 NEW YORK — Milo Yiannopoulos announced his resignation as an editor at the alt-right news website Breitbart on Tuesday after videos resurfaced of him defending sexual relationships between adult men and underage boys. 
During the press conference, in which Yiannopoulos repeatedly denounced pedophilia and came out as a survivor of sexual abuse, he also said that experiencing sexual abuse at 13 years old is not as bad as experiencing bankruptcy. 
"It doesn't have to ruin your life," Yiannopoulos responded to a reporter. "It didn't ruin mine." Yiannopoulos then said sexual abuse is "not the worst thing" that's going to happen a child who survives it. 
"Going bankrupt is worse," Yiannopoulos said. "Or plenty of other things that may happen in your life are worse." 
Yiannopoulos made the statement, which he admitted may be controversial, in response to a reporter who asked him if he had any advice to other 13-year-olds who had similar experiences with sexual abuse. He also bashed what he called "victimhood culture."
"I would encourage people not to buy into the victimhood culture," he said. "Do not let it define the rest of your life. Do not let it color every decision you ever make."
Yiannopoulos has made similar comments throughout his career, including in a 2015 Breitbart essay in which he included a picture of him holding a sign that says: "Rape culture and Harry Potter: Both fantasy." 
Yiannopoulos' press conference occurred only one day after he was disinvited to speak at a prominent conservative conference and lost his $250,000 book deal with Simon & Schuster. 
On Friday night, Yiannopoulos appeared on Real Time With Bill Maher and Overtime With Bill Maher and said cisgender women and children should be protected from transgender women who want to use the bathroom that matches their gender identity.
"I think that women and girls should be protected from having men who are confused about their sexual identities in their bathrooms," Yiannopoulos said. 
Former Nightly Show host Larry Wilmore later told Yiannopoulos, "Go fuck yourself," over his comments.