Ray-Ban REMIX allows you to customize sunglasses with your social media feed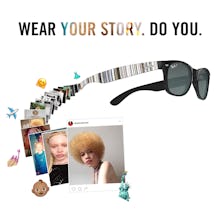 As though spending all day scrolling through social media wasn't indulgent enough, Ray-Ban now wants you to incorporate those same images into your look. 
Meet the new Ray-Ban REMIX, a customizable new frame that curates images from your social media feed to create a personalized pair of lenses that are equal parts from and for you.
All you do is choose where you want your photos to come from (either Instagram or Facebook), and Ray-Ban will print cropped slices from dozens of photos on the temples of the New Wayfarer frames.
The frames range in price from $150 to $200. Go here to create your customizable pair.