How to write better emails: 5 smart moves if you're sending a message to someone important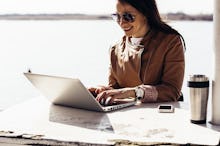 Emails are an unavoidable part of work life: More than 205 billion emails are sent daily, according to tech market research firm the Radicati Group, and the average user will send or receive 124 emails daily in 2017. Of course, a lot of those messages will be spam, or junk mail.
As a person sending an email, you really want to make sure that your message is not one of those that gets ignored — or sent directly to "trash."
Indeed, chances are that at some point, you'll have to reach out to someone important. Maybe it's a client, a business guru whom you hope will mentor you, a prospective boss or an executive from whom you need important information. Think: anyone whose time you really don't want to waste. 
In short, you want to write the most effective email possible — one that will be received well and that will help you get what you are looking for. Here are five key tips to writing and sending better emails.
1. Send your email at a smart time 
If you want your email to get attention, be smart about what time you send it. The Muse advises: "leaders tend to check email early in the morning or late at night since they are busy in meetings during the most of the day."
While this isn't the case for everyone, Business Insider's CEO interviews on email practices also revealed early a.m. emailing as a common trend, while LinkedIn CEO Jeff Weiner says his morning schedule includes an hour of email management after waking up. 
A survey of more than 500,000 sales emails conducted by YesWare also found that sending emails when there was less competition can impact the response. 
"Emails sent in the early morning (between 6 a.m. and 7 a.m.) and evening (around 8 p.m.) were the most effective at getting a response, with reply rates hovering around 45%," YesWare claims.
2. Cut out filler words, phrases and details
When sending an email to someone important, now is not the time to write the great American novel. It's tempting to give lots of explanation for who you are and what you're looking for. Don't do this. 
As Lifehacker warns, "One of the top reasons your email isn't getting read is because it is too long." Steve Jobs, late and former Apple CEO, was and Jeff Bezos, current Amazon CEO, is reportedly known for short emails.
Eric Schmidt, executive chairman of Google, offered tips to Time magazine about writing an effective email. One key tip: "When writing an email, every word matters, and useless prose doesn't."
Schmidt's advice on making your emails effective: "Be crisp in your delivery. If you are describing a problem, define it clearly. Doing this well requires more time, not less. You have to write a draft then go through it and eliminate any words that aren't necessary."
Take the time to cut it down. Don't force your reader into a TL;DR situation. 
3. Be direct about what you're asking for
You're writing the email for a reason, right? It pays to let the recipient in on what that reason is. 
As the Muse advises, "Having a goal or desired action from your reader is essential, because if someone doesn't know what you want, he or she likely won't respond."
Your subject line should be descriptive so the reader knows the email's purpose before even opening it. In the body of the email, get to the point immediately. 
According to Forbes: "The experts agree: Say what you need to say immediately, preferably in the subject line and first sentence."
"Many people write emails without a 'call to action' or reason they're writing the email," writes Mark Suster for Business Insider. Don't be one of those people. "Make sure to state yours and if there is no action required, say so upfront, as in, 'This is for information only — no action required.'"
4. Proofread three times
Email mistakes matter. When college students were asked to read emails, some of which had mistakes, Salon reports "readers rated the writers as less desirable if the emails included either typos or 'grammos.'"
You don't want to come across as sloppy and unprofessional, especially when emailing someone you consider important or from whom you're asking a favor. 
To avoid typos, CBS advises that you use, but don't rely on, spellcheck and that you read your emails out loud to more carefully consider your words. Take that extra beat, slow down and give it a final read. Speed is not your friend.
5. Use professional language
Informalities are number one on Monster's list of things not to include in a professional email. Monster advises: "Professional emails should be kept as polished and formal as possible. This isn't the place for all lowercase letters, text language (gr8, lol, thx) or informal greetings such as "Hiya!'" 
You should also leave out the emoticons. Adi Bittan, CEO of OwnerListens, told Monster. "This is not high school and this person is not your friend." 
Rosemary Haefner, chief human-resources officer for CareerBuilder, also advised Business Insider that writers of professional emails should avoid "colored text" and "fancy fonts" as well as steering clear of excessive use of exclamation points. 
Finally, be sure to close your email with a proper "Thank you!" Inc. advises that "thanks" makes you sound sarcastic or unprofessional" because "'Thanks' has a slightly harsh onomatopoeia, as if it were written through gritted gnashers." So take the extra time to type the full "thank you" and close on a high note. 
Sign up for The Payoff — your weekly crash course on how to live your best financial life. Additionally, for all your burning money questions, check out Mic's credit, savings, career, investing and health care hubs for more information — that pays off.