'The Detour' child stars are adorably clueless about the R-rated jokes on the show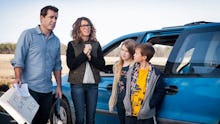 Ashley Gerasimovich and Liam Carroll are the two child actors on The Detour. The duo play Delilah and Jared, the 13-year-old twins of Nate and Robin Parker — and they are adorably clueless about some of the R-rated scenes that happen on the TBS comedy.
Season one of the series followed the Parker family as they headed out on a road trip to Florida so that Nate could expose a dangerous product being manufactured by his former job. Along the way, the group ended up at a strip club, a dirty hotel and an inappropriate themed restaurant, to name just a few of their pit stops. Delilah and Jared were delightfully clueless about most of the situations that their parents got them into, and the child actors who play them are just as naive. 
"Half the time I didn't really get what they were doing so I just went with the flow," Gerasimovich told Mic Tuesday at the red carpet event in New York City for the season two premiere. The young actress did admit though that she's had to talk to her parents about some of the adult humor jokes and storylines after filming certain scenes. "More than one time," she laughed. "Trust me."
"Most of the inappropriate scenes are with the adults, but the ones I am in my parents talk them through," Carroll added. "They're not too awkward because we already did the first season and that covered mostly everything that there is to know."
Things certainly get chaotic in season two. Fans of The Detour can look forward to a new lover for Robin and a home birth.
The Detour airs on TBS Tuesdays at 10 p.m. Eastern.