Muslim-American organizers raise funds to repair vandalized Jewish cemetery in St. Louis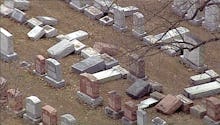 After vandals toppled more than 100 tombstones in a Jewish St. Louis cemetery over the weekend, two New York-based Muslim-American activists stepped up to rally support. Soliciting donations for repairs on the cemetery, they nearly tripled their fundraising goal by Wednesday morning.
Through crowdfunding site MPower Change, cofounder Linda Sarsour and Celebrate Mercy founder Tarek El-Messidi have, at time of writing, raised over $57,000 for Chesed Shel Emeth Society cemetery. They set out to raise $20,000, a sum they had reportedly exceeded hours after launching their Muslims Unite to Repair Jewish Cemetery initiative. 
Should they raise more than the cemetery requires for repairs, Sarsour and El-Messidi will earmark the leftovers for any future damage done to "vandalized Jewish centers," according to their crowdfunding page.
"This is really a human issue," El-Messidi told the Washington Post. "But out of this horrible election cycle, something beautiful has come out of it and [Muslims and Jews have] bonded together to support each other and stand up to this hate. Politics can get in the way of our basic humanity; I hope this breaks through all those walls, no pun intended, to help bring us closer together."
The 2016 election and the inauguration of President Donald Trump have been marked by an uptick in the incidence of hate crimes, particularly (but not exclusively) hate crimes against Muslims and Jews. 
Monday morning's report that over 150 head stones had been desecrated at the Chesed Shel Emeth Society cemetery coincided with a new wave of bomb threats against 11 Jewish Community Centers nationwide, the fourth batch of threats received in 2017 alone. On Monday evening, the Council on American-Islamic Relations announced that it would offer a $5,000 reward to anyone with viable information that could help authorities catch the people responsible. 
Until Tuesday, the president had remained conspicuously silent on the subject of anti-Semitism, even when faced with pointed questions about the problem. Under widespread pressure to denounce anti-Semitism on Tuesday, Trump finally addressed the rise in anti-Jewish sentiment that's coincided with his presidential bid. "It's going to stop" and "we want to have it get very much better" he said, words that Steven Goldstein, executive director of the Anne Frank Center for Mutual Respect, called "too little, too late." 
At time of writing, authorities in St. Louis had not officially deemed the cemetery vandalism a hate crime. Sarsour and El-Messidi, however, are looking at their fundraising campaign as an opportunity to cement mutual support in the face of religious discrimination.
"Through this campaign, we hope to send a united message from the Jewish and Muslim communities that there is no place for this type of hate, desecration and violence in America," the fundraising site reads. "We pray that this restores a sense of security and peace to the Jewish-American community who has undoubtedly been shaken by this event."