New Jersey bomb scare: Latest on "hoax" device found attached to Linden pay phone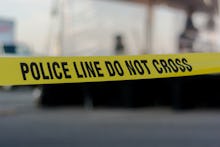 Police responded to reports of a suspicious package attached to a pay phone in Linden, N.J., Tuesday night and discovered what appeared to be a bomb but was later confirmed to be a hoax.
Residents were temporarily evacuated from two apartment buildings, according to Facebook posts from the Linden Police Department.
Linden Mayor Derek Armstead said the device was "disrupted," WABC reported. Authorities confirmed the device was a hoax after it was detonated inside a containment unit.
On his Facebook page, Armstead announced that the bomb threat had been cleared and stated his commitment to figuring out who was behind the hoax:
Our law enforcement personnel will remain vigilant in the days and weeks ahead to find out the source of this elaborate hoax causing a great deal of disturbance and tying up resources and personnel.
The FBI is investigating the incident because the device "looked authentic," according to WABC. It had wires coming out of it that were connected to a pay phone and appeared to have dynamite inside.
Early Wednesday morning, the Linden Police Department released a statement to its Facebook page reminding citizens to report any suspicious activity, noting the bomb hoax "truly highlights the significance of the police-community relationship. ... We cannot do it without you."