Jennifer Morrison on her exit from 'Once Upon a Time': "There's no drama here"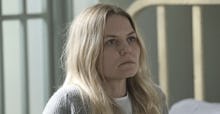 Once Upon a Time fans were hit with some tough news on Monday. Jennifer Morrison, who plays Emma Swan on the hit ABC fantasy-drama, announced she would be leaving the show at the end of her six-year contract. 
In an Instagram post, the actress revealed that it was a personal decision to exit the show. She reminded her fans that she will attempt to attend fan conventions for the series. 
Now, in a new interview with Entertainment Weekly, the actress reassures fans that there was no drama surrounding her exit and that it was just time for her to leave the show. 
"I've loved being there, but six years is a very long time," Morrison says. "I needed personally to move on to new things. It just was time."
For Morrison, she indicated that she could not be happier with the journey of her character. On Sunday's episode, Emma Swan finally got married to Hook in the show's musical episode, titled "The Song in Your Heart." She says she's loved seeing Emma grow over the past six years and enjoyed where the show took the character. 
Her leaving the show was bittersweet for the whole cast. "We all love each other," Morrison said, according to Entertainment Weekly. "I love everyone on the show, so it's tough. ... We've worked so closely with each other over the last six years that you really do become a family, and you know each other very, very well." 
Everyone at ABC was supportive of her decision to move on from the series and there is no bad blood. "We're all parting as friends, we all still care about each other very much. There's no drama here," she said. 
The season six finale of Once Upon a Time airs at 8 p.m. Eastern on Sunday on ABC.
Mic has ongoing TV coverage. Please follow our main TV hub here.