'Modern Family' is covering the 2016 creepy clown sightings and we're already freaked out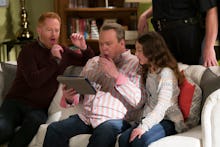 ABC's Modern Family will take on one of 2016's most bizarre stories — the creepy clown sightings.
The upcoming March 1 episode, titled "Finding Fizbo," will reintroduce Cam's clown alter ego, Fizbo, but it won't be under cheery circumstances. Cam discovers a video online of someone "desecrating his beloved Fizbo costume." The ABC synopsis teases that Cam will set out on a "quest to restore Fizbo's good name."
Stonestreet shared a picture from the episode on his Instagram and we're covered in chills at the image of the clown on set. Unfortunately the episode will not air on Feb. 22 as Stonestreet suggests. An episode titled "Heavy Is the Head" will air instead, with "Finding Fizbo" airing the following week.
While it's a little early in the year for a Halloween episode, we're already perturbed by the thought of reliving the terrifying clown sightings.  
In 2016, a spate of bizarre clown attacks began to pop up around the world. "Killer clown" videos kept showing up online in which people dressed as clowns appeared in the woods and chased people through the streets. The clown epidemic took a turn when the incidents started to become violent — for the clowns themselves.
Fizbo was first introduced in the first season of Modern Family in the episode "Fizbo." He has made recurring appearances over the show's eight seasons. 
You can catch an all-new Modern Family at 9 p.m. Eastern on ABC. 
Mic has ongoing TV coverage. Please follow our main TV hub here.