Chrissy Teigen calls out the fashion industry for not embracing Asian models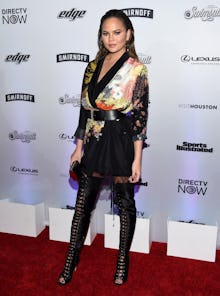 At this point, Chrissy Teigen basically has a Ph.D. in calling out bullshit, whether it's the so-called beauty of childbirth, the "joys" of being a human woman or the idea that a white supremacist isn't actually a neo-Nazi. 
And now, Teigen is calling out the fashion industry for its lack of Asian models. 
In an interview with E! News, Teigen was asked about why she thinks diversity in magazines, like the Sports Illustrated Swimsuit Issue, is so important. 
"I think its really important to start embracing people..." Teigen said. "Seeing them in roles that are not necessarily 'That Asian Girl' or 'That Asian Boy.'"
She continued: "I want it to be a normal thing to be able to see Asian models, and I think Asian models are really underrepresented in the industry of course, especially on the runways [and] in magazines."
And indeed, last fall, Asian models made up just 7% of all models cast in shows at New York, Milan, Paris and London Fashion Weeks. 
During the interview, Teigen also touched on the idea of cultural appropriation and Asian culture, perhaps in response to Karlie Kloss' geisha-themed spread in Vogue, which had the model, who is white, trying to imitate Japanese culture. 
"I personally am not offended by cultural appropriation of any sort because I feel like it does pay homage, but at the same time there are a lot of beautiful, beautiful Asian women that could do the same thing," Teigen said. 
Indeed, like in the instance of Kloss' recent spread, Vogue could have cast a Japanese model, like Chiharu Okunugi or Rola. 
This is, of course, not the first time that Teigen has weighed in on diversity issues, noting the overall whiteness of 2016's Miss Teen USA finalists in a tweet that garnered more than 100,000 retweets. 
So much like she'll have none of society's expectations for new mothers or for women in general, Teigen will be having none of your erasure of Asian women in fashion either.