EPA Regulations: Here's what to expect from a Pruitt-led agency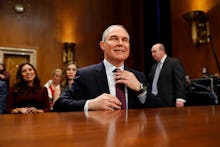 In a speech that lasted less than 15 minutes, the newly minted Environmental Protection Agency head Scott Pruitt told the press and staff Tuesday that he would roll back what he considers the agency's regulatory overreach implemented by the Obama administration, the Washington Post reported. 
"The only authority that any agency has in the executive branch is the authority given to it by Congress," Pruitt said. "We need to respect that. We need to follow that. Because when we do that, guess what happens? We avoid litigation. We avoid the uncertainty of litigation and we reach better ends and outcomes at the end of the day."
Nevertheless, the former Oklahoma attorney general offered a conciliatory approach, according to the Washington Post. Pruitt said he would be willing to listen and seek dialogue while respecting the role of states and fostering civility, citing the country's current "toxic" environment. "We have jerseys that we put on both politically and otherwise," he said. "And that's something, I think, is damaging to finding results and answers." 
Pruitt was confirmed as the new EPA administrator on Feb. 17, after contentious Senate hearings and a confirmation vote that mostly fell along party lines. 
What should we expect from Pruitt? 
Pruitt poses a big concern for environmentalists. In an interview with PBS' Newshour, Environmental Defense Fund's Jeremy Symons explained why his organization opposed Pruitt's nomination. "It's because Scott Pruitt is so extreme," he said. 
Symons went on to say that "this fight isn't over, because when you look at his record of suing the EPA that he's now going to lead 14 times to undermine clean air and clean water protections, that doesn't bode well for what he is going to try to do when he gets in."
In fact, according to Forbes, Pruitt's compromise to address "our environment and natural resources" is a way to appease extractive industries, which would, in turn, contradict EPA's mission "to protect human health and the environment — air, water and land." 
His views on oil and gas raised concerns among 800 former EPA employees who signed a letter opposing his confirmation. Pruitt has a history of coddling extractive companies and opposing federal regulations on air pollution. 
As Vox reported, Pruitt has enough power to overhaul the $8 billion agency. He can rewrite Obama's rules on the Clean Water Act, delay current new rules, shrink the agency's budget and change how EPA uses scientific research, among others. Nevertheless, if the EPA fully abandons the Clean Air Act requirements or misses statutory deadlines, Pruitt will likely be sued in court by environmental groups, according to Vox. 
It remains to be seen whether Pruitt and Trump would strip away some of the advancements the Obama administration attained, such as the Paris Climate Agreement. For now, Pruitt is seen by environmentalists as the fox guarding the henhouse.