NYPD allegedly forced Muslim woman to remove hijab, took photos of her after arrest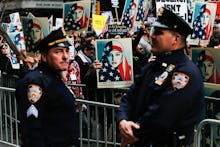 The New York Police Department is facing a lawsuit over allegations that officers strip-searched a Muslim woman, forced her to remove her headscarf and took photos of her after a false arrest. 
According to the New York Daily News, 34-year-old Rabab Musa filed a lawsuit at the Manhattan Supreme Court where she claims she was unlawfully arrested on Sept. 6 at around 6 p.m. outside a Starbucks in New York City.
The suit claims she was "forced to remove the hijab in violation of her rights and the hijab was confiscated." Musa said she was put in a holding cell with men, the NYDN reported. She also claims NYPD officers flaunted her across the station and took photos of her without the hijab.
In Islam, it's considered a sacrilegious offense to forcefully remove the headscarf of a Muslim woman. Typically, Muslim woman who wear hijab only allow her husband or family members to see her without her hair covered.
According to the NYDN, the NYPD denied allegations of Musa being strip-searched but did not provide any additional information about her case.
"One of the most astounding things here is she was handled by several officers, none of whom wanted to tell her why they were detaining her," Musa's lawyer, Aymen Aboushi, told DNAinfo New York.
NYPD officers, according to the suit, egged on Musa "to confess to what she did," but she was released six hours without being charged.