China is almost done building missile housing structures in the South China Sea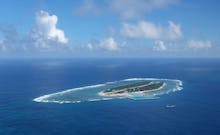 China is wrapping up construction on what appear to be at least 20 surface-to-air missile housing structures on its artificial islands in the South China Sea, two United States officials confirmed to Reuters.
For years, China has been piling sand onto existing reefs to create man-made islands in the contested waters of the South China Sea. A 2016 Pentagon report found that 10,000-foot runways and radar facilities were also being constructed on the islands, bolstering theories that China plans to militarize the area.
Troubling satellite images
According to one official who spoke to Fox News, recent images picked up by U.S. satellites show that the structures are 11 by 22 yards in length and come equipped with retractable roofs. Although surface-to-air missiles don't require such elaborate housing structures, one of the officials said that the roofs could be used to conceal the missiles once they arrive, and to protect them from the salty air.
The structures have been observed on at least three of China's artificial islands — located atop the Subi, Mischief and Fiery Cross reefs — which are all part of the disputed Spratly Islands chain. 
Tensions in the region
The Trump administration has called island-building by China illegal in the past, and one U.S. official that spoke to Reuters said that the construction of missile housing structures could be considered a military escalation.
The waters of the South China Sea are already a flashpoint in the region. While China has laid claim to all the waters — which Reuters notes account for a third of the world's maritime traffic — several other countries, including Brunei, Malaysia, the Philippines, Taiwan and Vietnam, have made their own claims. 
The islands, which include the Spratlys and another island chain, the Paracels, are considered key assets in the region for their valuable reserves of natural resources.
With the construction of the missile housing structures nearing completion, China's air defense capabilities in the region only stand to get stronger, which could light the fuse on the powder keg of the existing situation.