American Airlines: Latest on Philadelphia airport blackout that led to major delays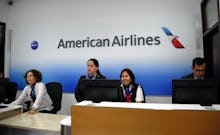 Computer problems Wednesday morning forced American Airlines to ground all flights and required passengers to be manually checked in to their flights at Philadelphia International Airport, local television station KYW and the Associated Press reported.
The computer system is back up and the ground stop preventing American Airlines flights to and from Philadelphia International Airport has been lifted, according a tweet posted by the airport.
American Airlines spokesperson Katie Cody told the Associated Press the issue began after American Airlines planned an internet outage overnight and the airline's system didn't come back up at the Philadelphia airport. A statement released by American Airlines said the computer system failed to come back online at 4 a.m. as planned. No other airports or airlines were affected by the outage.
The computer issues caused hourslong delays. CBS reported that some passengers waited in line for hours overnight and an elderly man reportedly became lightheaded and was put in a wheelchair while waiting in a delayed line.
Although the computer system is back up and the ground stop has been lifted, lingering delays are anticipated as operations resume, Philly.com reported. It's not known what caused the computer issues.