Ed Sheeran 'Divide' vinyl album has a special note from the singer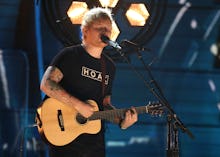 Ed Sheeran is releasing his third studio album in March and fans who order the vinyl edition can expect to see a special handwritten note from the singer with their newly pressed record. The singer teased the note in a video on his Instagram page Tuesday. 
The note from Sheeran reads:
Thanks so much for buying the album. You beautiful human! I'm writing this note on my kitchen table eating sausages with ketchup. They are awesome. Hope you like the album.
Ed Sheeran's Divide vinyl is a deluxe edition and will feature four additional tracks: "Barcelona," "Bibia Be Ye Ye," "Nancy Mulligan" and "Save Myself."
Pre-ordering the vinyl comes with a free download of a song on the album called "How Would You Feel (Paean)." 
Sheeran released the music video for "How Would You Feel (Paean)" on Feb. 20. In the video, filmed in the middle of a dimly lit room, he holds his guitar as he serenades fans in a live recording of the slowed down love song. He invites fans to upload their own covers of the song using the #HowWouldYouFeel hashtag. Sheeran says this isn't his next single, but called it "one of my favzzzzz," in an Instagram post.
So far, the British crooner's first two singles from Divide have found success: "Shape of You" is a no. 1 song and "Castle on the Hill" peaked at no. 6 on the Billboard Hot 100 this year.
Divide will be available March 3 and the 12-inch vinyl can be pre-ordered here. 
Mic has ongoing Ed Sheeran coverage. Please follow our main Ed Sheeran hub here.