'Pokemon Go' Legendary Birds Update: Release event comes to life in beautiful concept art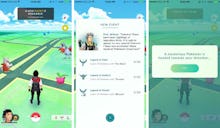 If you enjoyed Albert Choi's concepts for a Gen 2 version of Pokémon Go and for a way to introduce Mewtwo into the game, you'll enjoy what Choi has done with the Legendary Birds. The latest concept art brings the elusive Pokémon into the game in an exciting new way.
Along with Mew and Mewtwo, the Legendary Birds Articuno, Moltres and Zapdos are still missing from the Gen 1 lineup in Pokémon Go. Choi has some exciting ideas on how to rectify that situation.
Pokémon Go Legendary Birds release event: The update should look like this
Choi's idea is to make Pokémon Go players capture Pokémon with specific moves. After a player captures 10 of the type of Pokémon they need, one of the Legendary Birds will appear. Players then have 10 minutes to capture the Pokémon before it despawns.
It's a fun idea, but lacking any official notice as to when the Legendary Birds will finally be added to Pokémon Go, fan ideas like Choi's are just as valid as any other suggestions for how Niantic can finally allow players to finish their Gen 1 Pokédex.
Check out more Pokémon Go guides, tips and tricks
Be sure to check out Mic's guides on how to get stardust, how to determine how long it will take you to reach level 40, the kind of Pokémon you get from 10-kilometer eggs, how to create new PokéStops, how to maximize your chances of catching Pokémon and how PokéStops distribute Pokémon eggs. Also check out how to catch Gen 2 baby Pokémon, our analysis of post-balance update Chansey and Rhydon and everything you need to know about finding the long-awaited Pokémon Ditto.